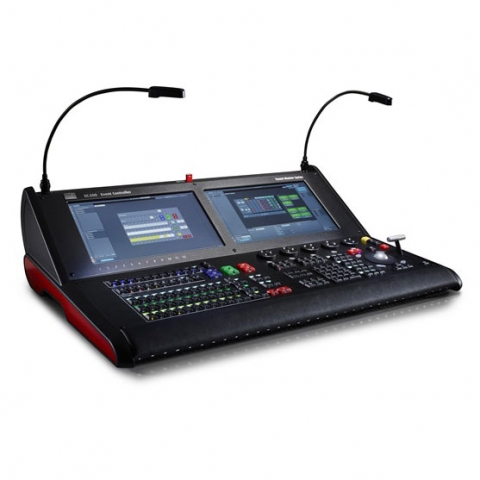 Barco EC-200 Large Controller
Details
Description
The EC-200 features a syntax-based programming methodology that accelerates programming. It offers immediate access to system resources, and streamlines show programming in a way that's unique to the Event Master system. Redefining the way screen management is handled for large events, this syntax-style programming greatly simplifies and speeds up your job.
We strive to provide impeccably maintained rental equipment for the entertainment industry that is prepped and ready for your event. Our experienced staff stands ready to help you with your lighting, video, rigging & production needs. Rental inventory availability may vary based on date and 4Wall location. In cases where your preferred item is unavailable, we'll do our best to suggest a suitable replacement.
Downloads
Features
Robust Linux version of EventMaster Toolset - same user interface used on Mac and PC
Onboard PC running Linux to support a purpose-built version of Event Master toolset, enabling stand-alone usage
Full control over the EventMaster Series switchers
Simultaneous connection of multiple controllers, GUI interfaces, and processors supported on same network. (Redundant backups of control)
2 internal 15.6-inch wide screen full HD (1,920x1,080) touchscreens with 10 point multi touch
High-resolution T-Bar for manual transitions
36 user-assignable buttons with customizable LCD labels
Dedicated Background layer button
8 dedicated Layer selection buttons with multi-page functionality (shift pages for destinations with 9 or more layers)
12 user-definable Destination buttons with multi-page functionality
Dedicated buttons for transition, live switching, modifying program, transitions, etc.
5 rotary encoders with wheels for ergonomic pip control and rapid placement of resources
12 LCD Contextual Display Buttons to support the Syntax Programmer
Tri Axis backlit trackball (based on function), with a very smooth rotary encoder for the third axis and 4 buttons for cursor and position control
2 separate gigabit Ethernet network interface connections, one for Primary system control, and one for supplemental network control (additional IP address range and mode)
Internal Solid State Hard drive
5 USB ports for additional accessories such as external touchscreens, mouse, keyboard, thumbdrive, etc.
Script lights, feedback LEDs, and integrated work lights all dimmable
Buy it New

Thinking of purchasing rather than renting? NewLighting.com is a division of 4Wall Entertainment that carries brand new, unopened fixtures and accessories from top manufacturers. You can rest assured that purchases from the site include all applicable manufacturer warranties, as well as the full customer service and support of the 4Wall family of companies.