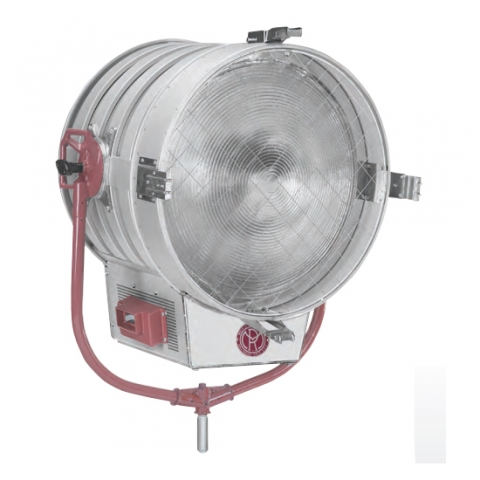 Mole-Richardson
Mole Richardson 20K Solarspot
Details
Description
The 20000W Solarspot is ideal for basic set lighting techniques in Motion Pictures, TV, and Professional Photographic Industries. The globe, in conjunction with the traditional 23-3/4" Fresnel lens, allows increased light output for greater coverage from a single fixture. The design also includes circular channel construction for added strength and more efficient airflow, resulting in cooler operation.
Included with your Mole Richardson 20K Solarspot Rental:
Single DMX Dimmer
25' 2/3 Jumper 100A 220V Stagepin
50' 2/3 Jumper 100A 220V Stagepin
Snakebit Camlock/100A 220V Stagepin Female
Reg Lamp Dolly
We strive to provide impeccably maintained equipment that is prepped and ready for your next event. Our experienced staff stands ready to help you create the perfect lighting and video experience. You will receive a rental quote back within 1 business day.
Downloads
Features
Head: Type 4251
Rating: 240 volts, AC or DC, 100 amps max. - 20000 watts max.
Construction: Light aluminum with vertical circular interlocking channels for ventilation and a louvered trough with aluminum end castings.
Yoke: Tubular aluminum and aluminum castings with 1 1/8" dia. steel yoke pin.
Condenser: 24-3/4" dia. curved Fresnel lens 21.8 deg to 66.5 deg field angle.
Reflector: Alzak aluminum.
Size: 33" x 33" x 29 3/4".
Head Weight: 98-1/2 lbs. (w/cable)