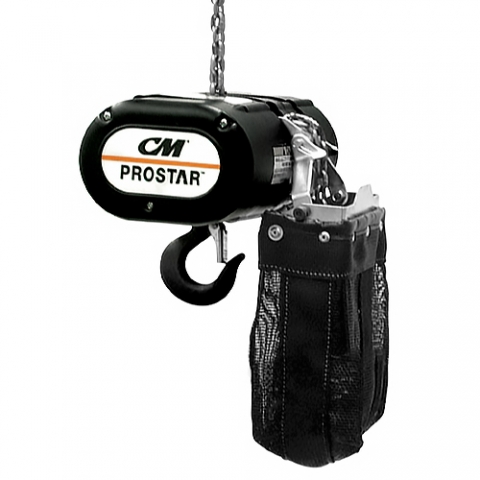 Columbus & McKinnon ProStar 1/2 Ton Hoist
Details
Description
Lightweight and quiet, the CM Prostar is designed and built for the unique rigging needs encountered at small venues. This portable hoist features standard overload protection to help ensure structural and operator safety. New swivel hook suspension allows for easy attachment to slings and pick points. The Prostar 1/2 Ton Hoist has 30' chain, 3-phase power, 8 feet per minute max lift speed and smooth lifting.
4Wall Entertainment Lighting is a rental company with locations nationwide. Since 1999 we've been providing quality stage and theatrical lighting equipment from the industry's top manufacturers. Request a rental quote for this item now and receive a response within one business day!
Specs
Features
Alloy steel, oblique lay liftwheel that provides constant chain speed and reduces chain wear.
Hoistaloy load chain for long and dependable service.
Grease lubricated, hardened spur gears provide smooth and quiet operation.
Thermally protected, hoist duty motor.
Forged steel upper and lower hooks with latch.
ProtectorTM that prevents lifting dangerous overloads.
D.C. disc type motor brake plus regenerative braking.
Lightweight die cast aluminum frames and covers.
Ball or needle bearings at all rotating points.
Compact, yet rugged, design provides minimum headroom and long, trouble-free service.