About Us
Press Center
Wynn Resorts Host Chinese New Year and Super Bowl Soirees with Najafi Design Group and 4Wall
By on May 8, 2014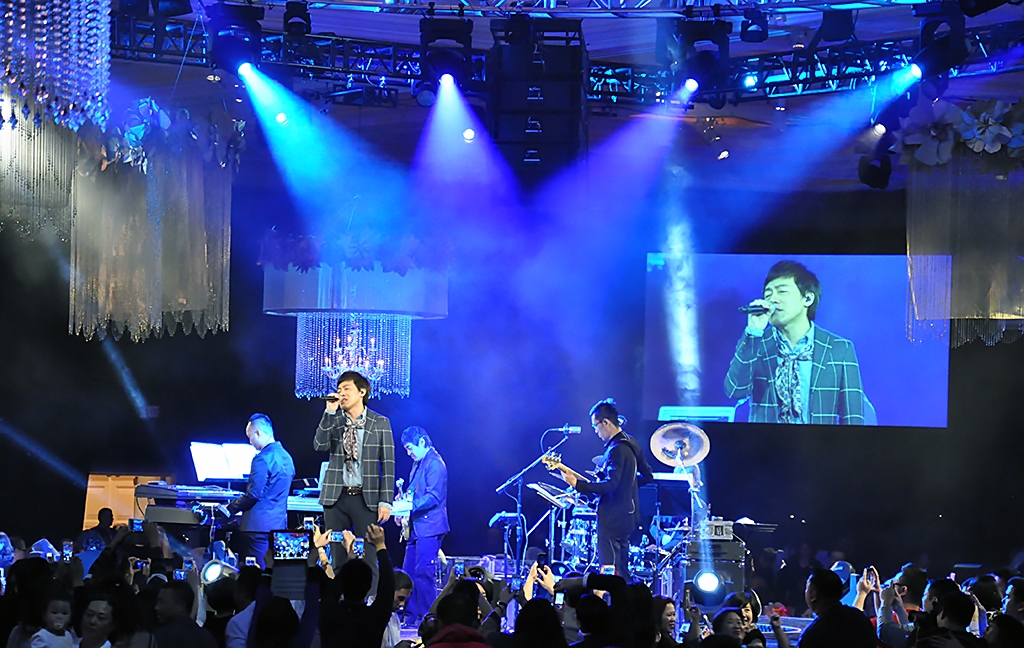 Las Vegas, NV- Wynn Resorts Las Vegas recently turned to Najafi Design Group to help resolve a difficult problem: two very different events, scheduled for the same weekend, which needed to be combined and loaded-in within one continuous 36-hour window. Najafi Design Group chose 4Wall Entertainment Las Vegas to provide equipment for the demanding project.
The first event was the resort's annual Chinese New Year Celebration, a hybrid of a celebratory gala and a headlining concert. The second party (set to be held in the same space just 12 hours after the first) was a Super Bowl Viewing Party.
Joshua Cuellar, NDG Founding Partner and this project's Principle LD, and Sohail e. Najafi, NDG Founding Partner and this project's Associate LD, spoke of the challenge:
"We were tasked with designing and managing two distinct events as if they were one production. These events would typically load-in separately and over the course of several days, but could not this year due to schedule conflicts. Our goal was to stick to the timeline without sacrificing the quality of spectacle guests of the Wynn expect and deserve."
Prep began at the 4Wall Las Vegas shop days before the events were to take place.
"Our prep days at the Vegas 4Wall shop were critical to the success of the event," said Cuellar. "The majority of our rig was assembled on a pre-rig truss off-site to expedite load-in and load-out times. With this we were able to load-in our show like a traditional touring concert, saving massive amounts of time and stress."
For the Chinese New Year Celebration which was up first, Cuellar and Najafi set out to create three distinct systems. The first of which was a main production rig -featuring Martin MAC Viper Performance and Profile fixtures- that was used for the concert portion of the show.
"The Viper fixtures were specified for their ability to provide crisp shuttered key light as well as impressive air and morphing effects. To compliment them we added Clay Paky Sharpies and Martin MAC 101s to provide beam effects from both the air and the deck," said Cuellar.
The second system was devoted to the 50,000 sq. ft. ballroom itself, which was utilized for both the Chinese New Year event as well as the Super Bowl party. Highlighting texture and decor elements with rich layers of color, this system featured the new Sharpy Wash as well as Vari-Lite VL2500 Spots and Chroma-Q Color Force and Color Charge LED Fixtures, not to mention dozens of MAC Auras and ETC Source Four Ellipsoidals.
The third system, the promenade, made use of Martin StageBars along with ETC Source Fours and even more Color Charges.
"The Color Charges were especially helpful within our limited time frame," said Najafi, "they allowed us to 'drop and go' color wherever we needed- be it under the displays in corridors or under the vehicles being given away as prizes."
Najafi Design Group seamlessly integrated all of the systems using ETC's sACN network protocol and two linked grandMA2 Full Size Consoles for absolute redundancy, which allowed the creation of a rich and dynamic environment without anything left to chance.
Najafi spoke highly of the performance and synergy amongst all involved, including the NDG team, the Wynn Event Production Services team, and especially the staff at 4Wall Las Vegas and Los Angeles.
"During the entirety of the process, tempers never flared nor did conflict slow our progress. This was all due to our ability to properly and precisely prep our gear in advance, which was made possible by the assistance from the team at 4Wall. They even brought us cookies!"