About Us
Press Center
VL4000 Spot Luminaires Now in Stock at 4Wall
By on Sep 19, 2014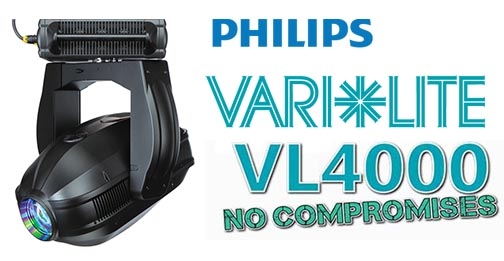 Dallas, Texas- – Philips Vari-Lite is proud to announce that 4Wall Entertainment has made a significant investment in the new VL4000 Spot luminaire. With inventory now in stock at their five nationwide locations, 4Wall and Philips Vari-Lite continue their longtime partnership to provide high-quality automated lighting instruments that inspire designers and technicians to push the creative limits of their productions.
Adding the versatile VL4000 Spot to our inventory was an easy decision" said Michael Cannon, 4Wall CEO. "Vari-Lite luminaires have been a staple of our inventory for many years now, and this newest addition to the line is a fixture we know our clients will be excited to use."
"One of the things I love most about this industry is the wonderful partnerships we are able to form such as the one we have with 4Wall," said Julie Smith, Philips Entertainment General Manager of the Americas. "It's great to see that we have many dealers who are excited about making an investment in the VL4000 Spot, and who recognize how the technology can benefit designers and technicians in any production."
The VL4000 Spot from Philips Vari-Lite includes all the tools needed to create dynamic and useful lighting on any stage as every aspect of the luminaire has been designed with performance in mind. The 1200W VL4000 Spot boasts 33,000 lumens as well as a quiet Studio mode which outputs 25,000 lumens. Its high resolution optics ensure remarkable center-to-edge focusing and an unprecedented contrast ratio while a 5:1 zoom covers an amazing 9 to 47 degrees without sacrificing output or clarity.
"Having received rave reviews from designers, dealers and technicians worldwide, the VL4000 Spot is quickly becoming one of the most dynamic Vari-Lite luminaires," said Brad Schiller, Philips Vari-Lite Product Marketing Manager. "We are extremely eager to see how 4Wall will be able to share the new fixtures with their creative clientele, and we are confident that the VL4000 Spot will become a wide-spread industry success."
With the new Infinity Color Mix System the VL4000 Spot offers CYM color mixing along with variable CTO color temperature correction and dual five-position color wheels. As a result, the luminaire has incredibly smooth color mixing whether operating in a slow fade or instant snap and the dual opposing fixed color wheels achieve unique color effects, providing a multitude of multi-color combinations. The VL4000 Spot luminaire also features dual rotating gobo wheels with a remarkable new collection of optimized gobo patterns for both aerial and projected imagery. Dual animation wheels provide dynamic motion effects as well as the chromatically tuned Dichro*Fusion effect. The beam can be further modified via the precise four blade shutter system and mechanical iris, plus an independent prism with divergence control and variable frost are also implemented into the luminaire.
Interested in adding the VL4000 to your next show? You can view features, watch video, and request an online quote all right here on the 4Wall app. Just begin a new rental quote, head to the "automated" category and select the VL4000