About Us
Press Center
Schellenger Brings Third Eye Blind to Festival Season
By on Jun 9, 2014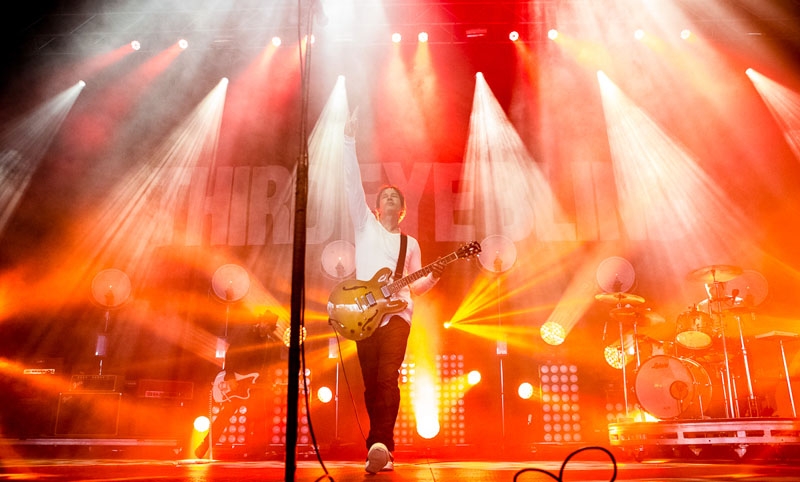 Nashville, TN- Third Eye Blind recently took to the road for a summer festival tour with gear from 4Wall Nashville. LD Mitchell Schellenger created a rig utilizing the latest in 4Wall rental equipment, including Clay Paky B-Eye K20 fixtures, Martin MAC Vipers, Elation Platinum Beam 5R Extremes, and Chauvet Nexus 4x4 Panels.
With a band motto of "Born in Shadow, Made of Lions, Loud as *" (well, you can guess the last part), Third Eye Blind inspired Schellenger to design a scheme that was shadowy, silhouetted, and de-saturated during their 2013 fall tour (which also included gear from 4Wall).
While creating a concept for the 2014 festival season and its early set times, Schellenger worked with lead singer Stephan Jenkins to come up with new ideas that would match the musical performance while complimenting the vibe of outdoor summer stages.
"We chose to limit our color pallet to only colors found at sunset, such as warm whites, ambers, and oranges," said Schellenger, "We wanted to match the evening sunset warmth and progress visually onstage as the ambient light did."
Again taking into account the festival set times, Schellenger knew beams and textures wouldn't be the right way to light the stage. He instead opted for wash fixtures that featured great faces such as the MAC Aura and new B-Eye K20.
"With the K-20s new to the market, I thought this was a great opportunity to play around with their visual capabilities. Due to our use of a small number of color schemes, I used different effects within the actual light source to keep the show dynamic. The K-20s were great for creating different effects."
Nexus 4x4 Panels were used as light sculpting set pieces, while Platinum Beams were tasked with showcasing members of the band.
Schellenger also took the opportunity to add in a unique effect to leave those watching the show with a memorable last impression.
"The show ends on a very distinct drum hit. During this moment, I took a one second cue and briefly turned the stage green before fading out, representative of the optical phenomenon that is a green flash at the end of a sunset. Although it lasted for only a second, it was a complex cue with four follow commands. If you blinked, you missed it."
While Schellenger left a memorable impression on his audience, the team at 4Wall Nashville left an impression on the talented designer.
"I couldn't have asked for a better prep. The Nashville shop is also located next to our rehearsal space of choice, Soundcheck, which meant I was close enough to grab additional gear as needed while programming. We will continue to turn to the excellent gear and the team at 4Wall."
For more on Mitchell Schellenger, visit ilikelights.com
photo credits: Stephen Eckert