About Us
Press Center
Sara Bareilles Tour Focuses on the Lighting with 4Wall Nashville
By on Jan 20, 2014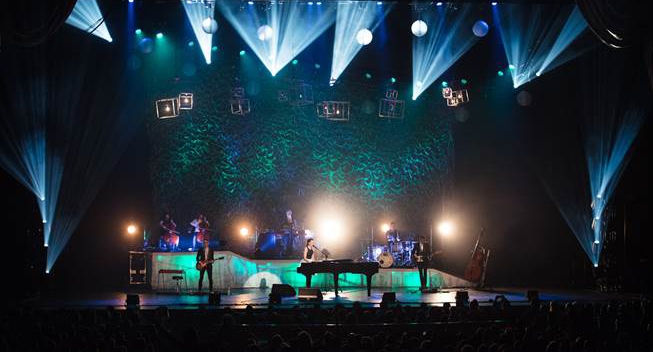 Music superstar Sara Bareilles recently teamed up with One Republic on tour before continuing onto a headlining second tour leg. Shining over both legs of the tour was a lighting rig provided by 4Wall Nashville.
Bareilles joined One Republic as a co-headliner with the tour "already in progress", creating a problem for Bareilles' Production Manager Trey Smith and LD Darien Koop. The One Republic rig had been completely designed and built, yet Bareilles was intent on having a unique look for her show.
Smith spoke of the depth of the challenge.
"Our only option was to create a headlining package that could not only fit in front of the One Republic rig each night, but also one that could strike completely on set change in roughly fifteen minutes."
Koop, designing his first rig for Bareilles, didn't let the tough dimensions of the first leg dim his expectations.
"When I was first approached about this project, I was simply asked to come up with a dream scenario that I would put together for Sara if I had no limits. This empowered me to truly be able to construct a creative design that pushed the boundaries of what would naturally be available. As a designer, I try to truly examine the artist and where they are coming from both stylistically and as a person."
Bareilles gave input freely to the team. Smith and Koop worked towards achieving something that didn't look like a typical concert lighting show. One way they chose to differentiate was by foregoing video completely to focus on lighting and special effects. Koop chose MAC Vipers and Auras as well as Clay Paky Sharpy and Sharpy Wash fixtures to handle the heavy lifting on the rig. He was particularly pleased with the new Sharpy Wash.
"Working with these for the first time was amazing. They are quickly becoming my new wash fixture of choice due to their size, brightness, and speed."
Koop also added custom made LED globes and chandeliers, custom fixtures being something he tries to incorporate in his designs often. These further served to make the rig stand out from others on tour.
After squeezing the rig on-stage next to the One Republic rig during the first half of the tour, the crew was able to scale the rig to its full glory during the solo headlining run.
Pulling off these feats required quality work from a large number of people. Koop spoke of the symbiosis between the two teams on the first leg, saying, "Blending into a camp that had been on the road already for a month was interesting, but the quality of the people is what made the difference. In the end we were able to make an overall entertainment experience that I think truly gave the audience each night memories that will last a lifetime."
In addition to the quality of the crew, Smith found quality in the lighting gear provided by 4Wall.
"4Wall gear was flawless. We hardly had any issues with the gear on the road. We added a few extra tech days than we had previously planned, but the Nashville 4Wall folks were very helpful to make sure all was perfect for the tour."
Koop seconded his thoughts, saying:
"Working with 4Wall was quite fun. I worked with TLS back in the day and this was my first time with 4Wall since they acquired them. Our account reps were instrumental in helping us achieve our overall goals and I would trust them for any account that I have in the future." - See more at: http://www.4wall.com/press-center/sara-bareilles-tour-focuses-on-the-lighting-with-4wall-nashville#sthash.0vxiJLqd.dpuf