About Us
Press Center
Najafi Design Group Uses 4Wall LA Gear for RX Bandits Tour
By on Sep 19, 2014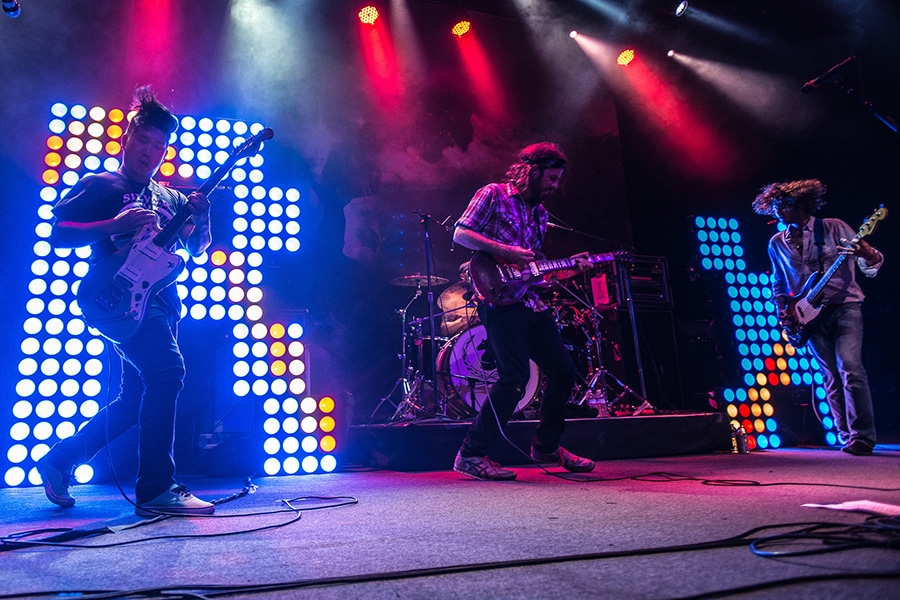 Los Angeles- 4Wall Los Angeles recently provided gear for the RX Bandits Gemini Her Majesty Tour, including Chauvet Nexus panels brilliantly pixel-mapped by LD Sohail E. Najafi of Najafi Design Group.
Chauvet Professional interviewed Najafi to get the full story on how he creatively used the Nexus panels. From Chauvet:
"Rx Bandits is always taking their music to new places, and they want this vision reflected in their lightshow too," said Najafi. "Originally when the band's manager first contacted me for this tour, she had the concept of a flat LED curtain to create a 'cool backdrop effect.' Realizing that their vision was limited by the technology they were aware of, I immediately suggested growing the design into something more substantial."
That "something" was an eye-tingling pixel mapped array of 20 Nexus 4x4 panels provided by 4Wall Entertainment. "We positioned the panels directly on the deck upstage to frame the band," said Najafi. "The Nexus 4x4s were used to create a large dynamic monogram backdrop of the band's initials 'Rx' that changed with the music. Our design concept was to give the artist a dynamic and visually stunning piece of three-dimensional scenery that we could then use to accent and support their performance at all of the different types of venues on the tour."
Najafi used Madrix as his control software for pixel mapping the Nexus panels. "We designed a wide-range of pixel-mapped effects including color morphing, flying text, motion, and image cues," he said. "An added bonus was Madrix's integrated sound-activated effects engine that allowed us to create sound-controlled motion effects that drove the audience crazy; our sound-activated fire and audio waveform cues on the Nexus panels always made the crowd roar!"
"Pixel mapping the Nexus panels allowed us to create incredibly detailed effects with extremely dynamic motion very easily and very quickly," continued Najafi. "Without it, our design would have had to be substantially simpler and programming would have taken significantly longer. It was these extremely dynamic effects that made the design so engaging for the audience and ultimately so much fun."
Looking back, Najafi recounted how his journey with Rx Bandits started. "We were referred to the project by a close contact at 4Wall Entertainment's Los Angeles office, Jeff Mateer, Vice President of Business Development," he said. "The band's manager had reached out to 4Wall LA, and Jeff felt we were a great match with the client, so he made the introduction." Judging from the looks of this lightshow, Jeff was right on!
Special thanks to Chauvet Professional for sharing the interview.
For more info on Najafi Design Group, visit www.najafidesigngroup.com For more information on Chauvet Professional, visit www.chauvetpro.com