About Us
Press Center
MLB Concert Features Philharmonic, Mariah Carey, and Lighting from 4Wall New York
By on Sep 9, 2013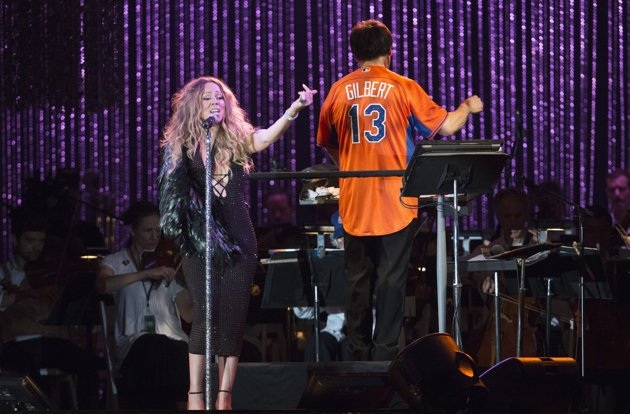 New York, NY- 4Wall New York recently provided lighting for the 2013 MLB All-Star Charity Concert, featuring Mariah Carey and the New York Philharmonic. The event was held on the Great Lawn in Central Park.
For more than 40 years the Philharmonic has toured the five boroughs with a series of outdoor concerts. However this year, with Citi Field hosting Major League Baseball's All-Star Game, the Philharmonic teamed with guest performer Mariah Carey to deliver a free event that would appeal to both baseball fans and philistines.
Philharmonic Tour Lighting Designer Tony Giovannetti knew the addition of the famous pop singer would require additional lighting gear. Already utilizing a repertory lighting package from 4Wall New York for the Philharmonic's tour, he again turned to 4Wall to add even more pop to this special event.
With the concert scheduled in the middle of the Philharmonic's tour of the city, Giovannetti selected a package that could be quickly added to his rig the day before the charity concert.
"We wanted something that could light Mariah live, while also setting the stage for I-Mag screens as well as a documentary crew utilizing RED camera rigs. We needed lighting that would work for it all," said Giovannetti.
Adding Carey to the production added 8 ft. of thrust to the existing Philharmonic stage. With some help from rigger Chris Catalano, the team was able to cantilever a total of 12 ft. out from the first truss piece in the rig. He placed Martin MAC Aura's in this position, choosing them for their versatility and light weight.
He also added CXI scrollers to his existing Source Four's, as well as more Auras to each of the existing trusses upstage and at the top and backlight positions. Other additions include Chroma-Q Color Force LEDs and extra ETC Sensor Racks. All of this was done carefully so as not to blind the orchestral players from reading their music.
With everything in place, it was left to the performers to entertain the thousands gathered in Central Park. Giovannetti, meanwhile, was cognizant of how much was accomplished in a short time period.
"We were able to prep all of our gear in the 4Wall shop and add it to our rig on the morning of the dress, which in fact was cancelled due to rain. After all of that, the show went off on Friday without a hitch!"