About Us
Press Center
Metropolitan Church of God chooses UsedLighting.com for Upgrades
By on Nov 29, 2015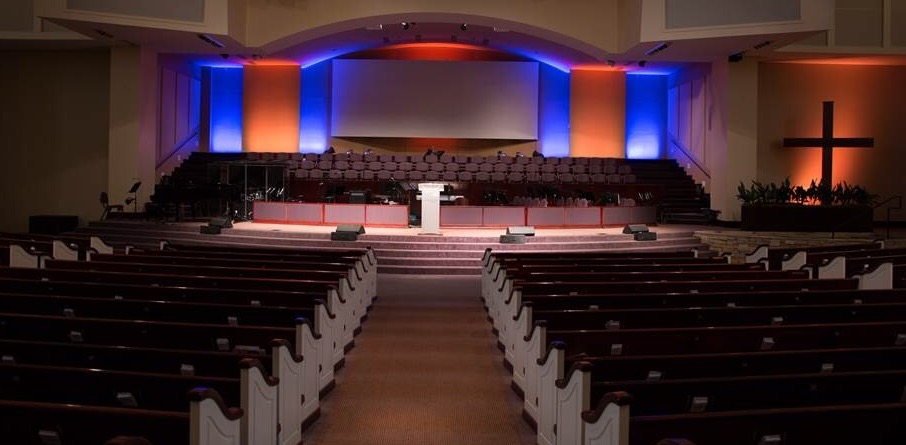 Birmingham, Alabama- Metropolitan Church of God opened its doors on September 1981. Since then many things have changed in regards to technology and lighting. In need of a long overdue upgrade, Caleb Dick the Director of Creative Arts reached out to UsedLighting.com for all of his lighting needs.
"We realized we had outgrown the old system, and so needed to take a step forward."
Every year the church hosts a general meeting of pastors and lay people from their denomination within the state. There are evening worship services as well as teaching sessions during the day. The sanctuary seats about 1500 people and has a high ceiling and a large catwalk. While beautiful, it presented itself to be a pretty steep angle for lighting the front of the stage.
"Our stage area is pretty shallow and has a big choir loft that can look like a cave. Color was a difficult element to introduce as well since changing gels constantly was time consuming," said Dick.
Needing fixtures to add a sense of depth to the choir loft, Dick decided to coordinate color schemes with Chroma-Q LED Color Force 48" and 72" LED from UsedLighting.com behind the baptistery over the wings to uplift the back wall and give the stage a wider look.
"The purchase of these fixtures allowed us to get different looks and colors up quickly and easily. The Color Forces were a great addition to our space."
He continued, "The Color Forces allowed us to affect the look of the room simply, quickly, and effectively. Being able to turn the back wall into a color element has been really fantastic. Before, color was labor intensive and hard to get right. Now we can coordinate color schemes for different sermons or speakers with ease. People have reacted positively from day one," said Dick.
With the right equipment in place, Metropolitan Church of God can now enjoy their new lighting, and focus on other more important things. The assistance provided by UsedLighting.com was highly appreciated by Dick.
"UsedLighting.com went out of their way to educate, advise, and accommodate at every turn. Their used gear is in great shape and we are so happy with our purchase. We will definitely do business with them again!"