About Us
Press Center
Mack Truck Uses 4Wall Gear for Launch of New Logo
By on Aug 6, 2014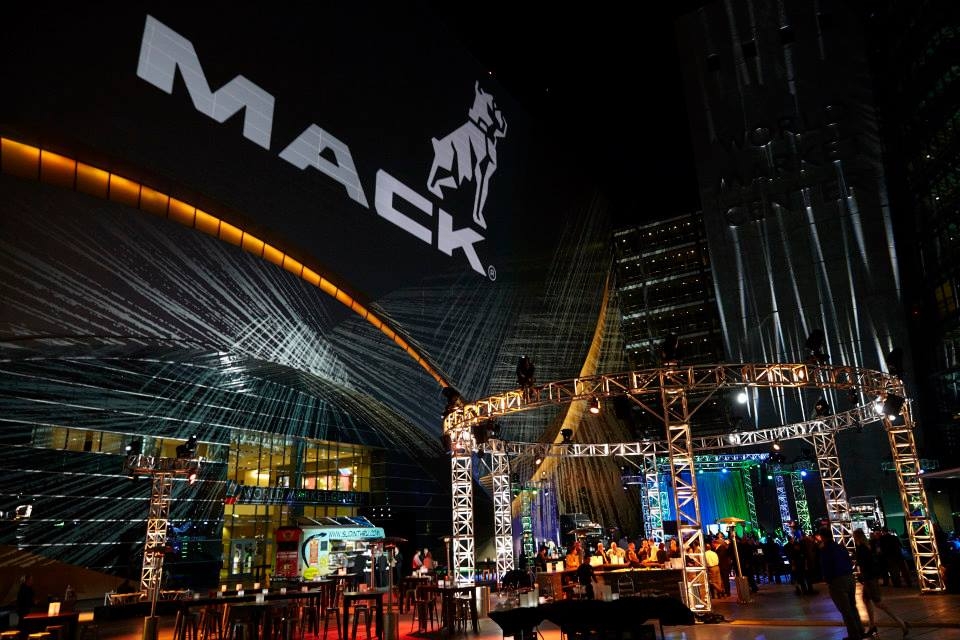 Las Vegas, NV- Mack Truck called upon 4Wall Las Vegas to provide gear for a launch event celebrating a new logo for the company. Production Company Dauntless Creative teamed with LD Glenn Wade and his team, which consisted of Programmer Seth Rapaport and Master Electrician Jason Mack.
Celebrating the update of the iconic Mack Truck logo required a design that would create an atmosphere of enjoyment in the massive open air piazza in the center of the Las Vegas World Market Center.
"My brief from the producers [Dauntless Creative] was to create a 'party atmosphere' and light up as much of the space as I could, this is when I began to call it 'acreage lighting!'" said Wade.
"I had a great deal of building surface to try and cover in addition to lighting up six large, industrial Mack trucks, we had a 30ft by 30ft stage area for speeches, awards presentations, and a DJ. The client had a very specific color palette in mind, gold and silver. I designed fourteen 20ft tall 'tree trusses' that were spaced around the open piazza along with a central area of circular truss (65ft diameter) where the main bar area was located."
Wade's rental package from 4Wall included a number of fixtures with enough punch to cover the huge area.
"I used 55 Vari-Lite VL3500 spots and 104 Martin MAC Auras spaced out on the tree trusses and the certain circular truss. I was just able to cover most of the building surfaces with the VLs whilst the MAC Auras were focused on the ground creating pools of moving light. An additional 36 Clay Paky Sharpy Shots were used to light up building surfaces."