About Us
Press Center
Line 6 Amplifies NAMM Booth Lighting with 4Wall LA
By on May 13, 2014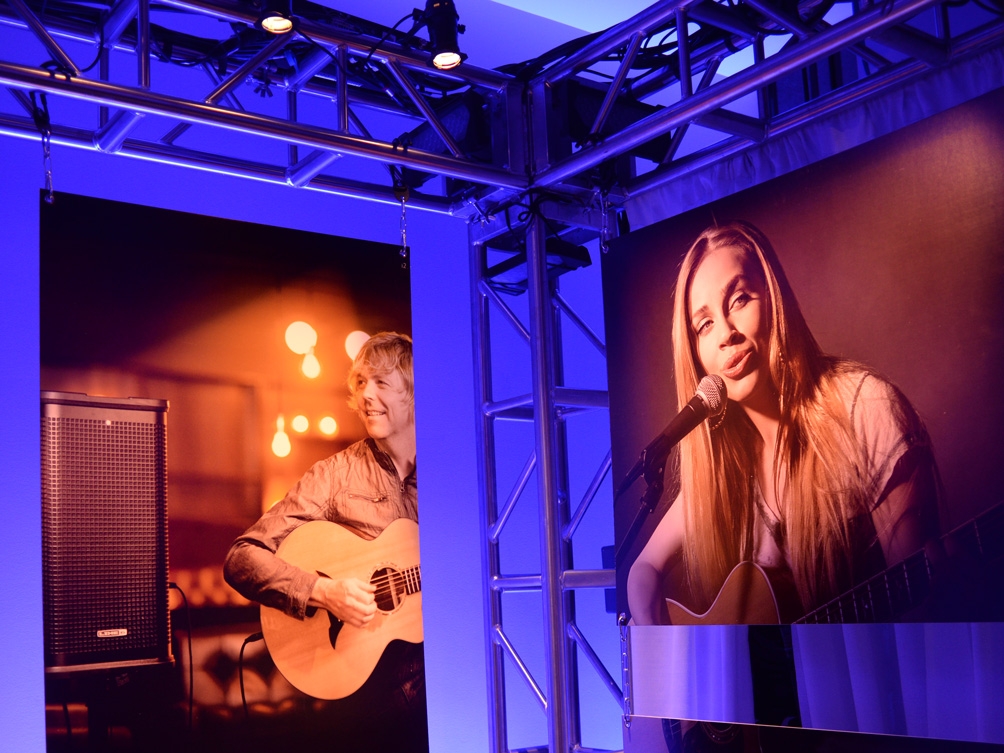 Los Angeles, CA- Line 6- a leading manufacturer of digital modeling guitars and amplifiers- recently turned to designer Dan Weingarten and 4Wall LA to light their trade show exhibit at NAMM.
Held annually, the NAMM is the premier event for professional music merchants. As such, Line 6 set out to create an experience that would include product displays, demo stations, and lounges as well as a performance stage.
Weingarten was tasked with creating a look that would showcase the products themselves along with over 100 printed graphics in the booth.
"The client was excited to see a large number of fixtures in the design, to assist in creating the overall booth environment," said Weingarten. "My plan therefore was simple: light the walls, tone the truss, and illuminate each printed graphic independently."
To light the booth, which utilized a 45' x 65' meeting room at the Anaheim Convention Center, Weingarten determined he would need over 100 ERS fixtures, 85 strip lights, and 150 truss toners, not to mention a dozen moving lights.
The challenges of adding all these lights in a room rather than an open hall: controlling the heat, as well as the noise that might interfere with the audio products on display.
"I knew there was air conditioning in the room, but research demonstrated it wasn't going to be enough. It was clear we needed to use LEDs wherever possible. For the moving lights, we had to keep the noise to a minimum."
Based on this knowledge, he selected Chroma-Q Color Force 72 units as strip lights, Color Kinetics ColorBlasts as truss toners, as well as ETC Source Four LED Lustr fixtures to light the products, graphics, and sales lounge. Martin MAC Auras and MAC Vipers served as movers.
"The ETC LED Lustr was the only fixture I considered for the task of lighting the graphics. I found no other fixture that mixed the color as cleanly."
The last step was loading in, which required fitting three scissor lifts into the meeting room itself. Hanging and focus was completed within two short days.
The end result was a well-lit (and quiet) exhibit that provided the perfect backdrop for every audiophile who entered the booth. Both Weingarten and Line 6 were pleased with the outcome, as well as their lighting provider.
"My experience with 4Wall was great, they gave us a great price for the package and had a can do attitude the entire time. Even when faced with challenges beyond their control, they made it all work and helped me create the booth my client had dreamed of."