About Us
Press Center
Halsey Tours the 'Badlands' with Duck Lights and 4Wall LA
By on Dec 16, 2015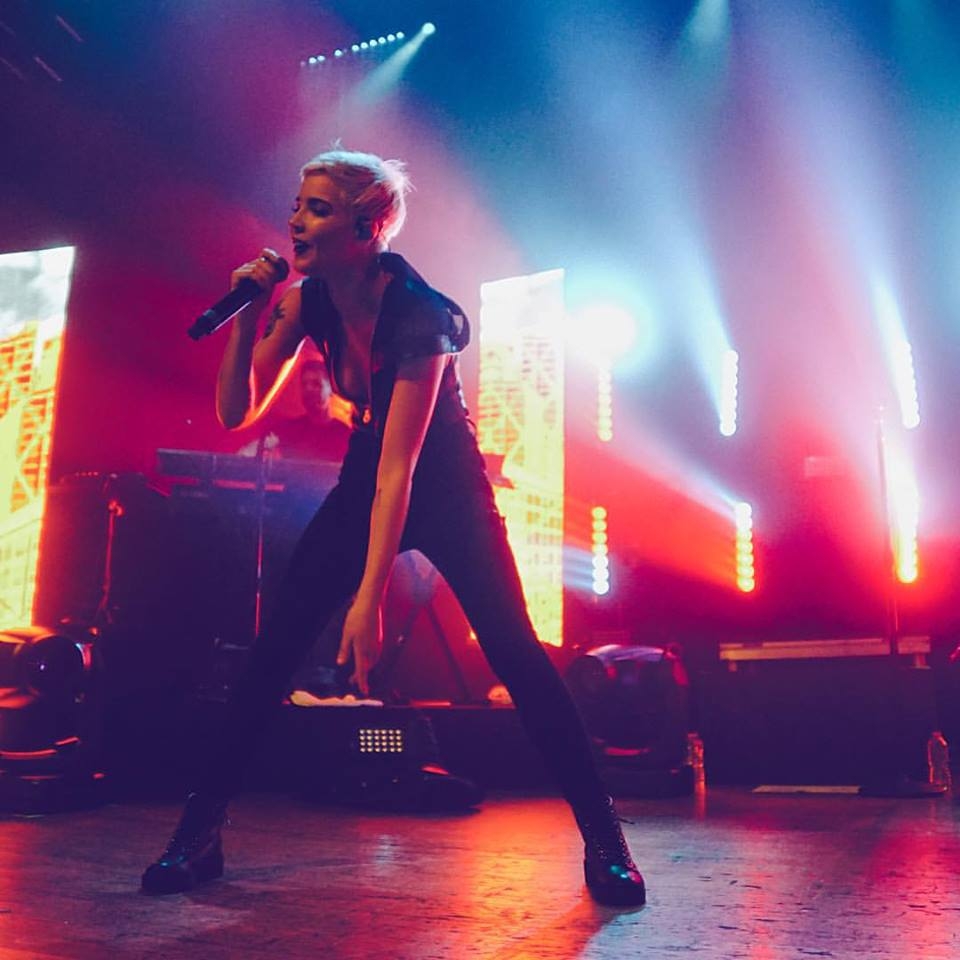 If you haven't followed closely the meteoric rise of music superstar Halsey, it goes a bit like this:
A talented girl named Ashley becomes an internet sensation covering Taylor Swift songs, disappears for a few years, reemerges as Halsey, drops an album (Badlands) that debuts at No. 2 on the Billboard 200, and then embarks on tour which escalates from small venues to a sold out Madison Square Garden in just a few short months.
Owner Lee Duck and Technical Director Adam De Witt of Duck Lights began working with Halsey in 2014, at the time providing a simple and truly automated lighting package that could be set up and torn down efficiently for support shows.
As Halsey's profile grew, so did the lighting requirements, especially for this year's tour supporting Badlands.
"Halsey's team was impressed initially by the quality and synchronization of our programming, so we kept building our relationship from there. For the Badlands tour, we knew the album's songs had very specific mood and character progression," said Duck. "We wanted to help convey the diversity of these moods in visual form, while providing the very fun and danceable experience the music truly deserves."
Knowing the artist well and having his goals in mind, Duck turned to 4Wall Los Angeles for the equipment necessary to fulfill the vision of De Witt, who served as Lighting Designer for the tour.
De Witt said of the design itself, "It had to fit within a rather narrow color palette, as Ashley (Halsey) has specific color requests for many of the songs, many of which lie on the cooler side of the light spectrum. Programming with close attention to ease in palette changes helped the design stay flexible."
With the design consisting almost entirely of LEDs, De Witt also fought to achieve a few of the deeper colors, especially in the violet range. Helping him to reach his needs on the rig were Ayrton MagicBlades, Martin MAC Viper Profiles, and TMB Solaris Flare Juniors.
"The MagicBlades are really the stars of the visual production," said De Witt. "The center stage array of eight Blades allows linear patterns in vertical, horizontal, and 45 degree orientations. This allows for some rather attractive tableaus and geometric motion effects, from hatches patterns and morphing parallelograms, to an almost organic feeling oval."
Meanwhile, the MAC Viper Profiles served as the primary lighting element for Halsey herself.
"Both the artist and management have a strong aversion to front lighting, so we try to keep her lit in a more dance-like fashion of form highlighting and field backlighting. The wide zoom and selection of aerial and breakup patterns in the Vipers allow us to keep her frame well defined," said De Witt.
With a satisfied superstar artist added to their portfolio, the Duck Lights team expressed appreciation for 4Wall's assistance in putting the show together on such short notice - as visual production was confirmed less than a week before rehearsals started.
"4Wall was wonderfully helpful in helping us to put this show together on such short notice," said Duck. "Their team helped highlight and resolve a few technical issues in our rushed implementation before they became a problem. They even acquired extra fixtures on short notice just to help fulfill our needs."
For more information on Duck Lights, visit www.ducklights.com