About Us
Press Center
Crawford Lights NJPAC Gala with 4Wall Gear Including New VL4000
By on Oct 21, 2014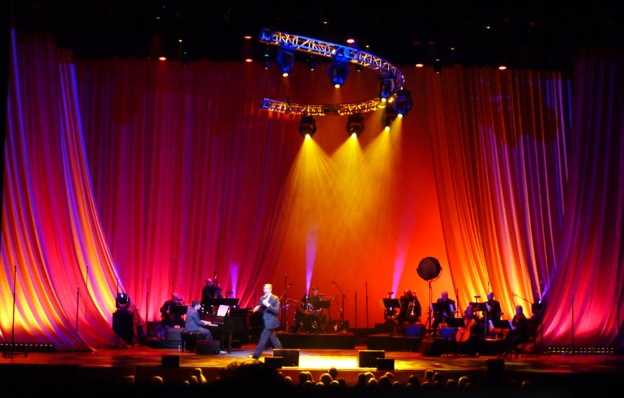 Newark, NJ- Designer Al Crawford of Arc3Design was recently called upon (for an eighth consecutive year) to light the Women's Association Spotlight Gala at the New Jersey Performing Arts Center. Just as he had done for the previous seven years, Crawford turned to 4Wall New York for the lighting package.
The evening is a multi-venue experience that includes a cocktail welcome, a concert and presentation, dinner in 6 venues throughout the arts center and an after party in an adjoining tent.
Crawford spoke of the smooth process of lighting the event year after year.
"Every year it's a fresh new vision by the event producers. We work with them as well as the event decor designers to create a unique experience for the guests."
The goal of this year's production was clear in Crawford's mind.
"This year was driven by the idea of 'GLAMour'. We developed a through the line look and vocabulary of light that was consistent yet reinventing itself in every room. We wanted every room to feel special and keep to the vision, and all of the design elements achieved that. I always find if there's a dream of the producer we can all get behind, regardless of budget, it's so much more likely to be successful overall. The guests feel it and we believe it creates the spirit of giving."
In choosing equipment from 4Wall, Crawford turned to some of the newest technology in the company's rental inventory including the Vari-Lite VL4000 Spot.
"The VL4000's were a powerhouse on stage," he said. "I found myself pulling them back in the mixed rig and when I needed output, it was there and ready."
Crawford also used new Chroma-Q Color ONE 100 LED Pars on the concert stage. The LED is another recent addition to 4Wall New York's inventory.
"I really enjoyed the new Color ONE 100. The fixture has a very attractive homogenized lens that looks great inside a truss. They are perfect for truss toners as well as a clean wall wash. It's my new go-to for small format LED pars and I'm excited 4Wall New York has invested in them. I fully anticipate this being a popular fixture in a variety of lighting projects."
4Wall New York GM Al Ridella spoke of the continued partnership with Arc3Design and the Spotlight Gala, saying:
"We are always honored to be involved with the Spotlight Gala. It's a great night that always includes fresh lighting looks provided by Al Crawford and his team. Al always chooses to utilize our latest rental technology to push the boundaries of this event, and it really shows in the finished result."
For more information on Al Crawford, visit the official site of Arc3Design