About Us
4Wall In The News
Allen Branton's Rock & Roll Hall of Fame Ceremony
By Chauvet Press
Dec 13, 2021, updated Oct 25, 2023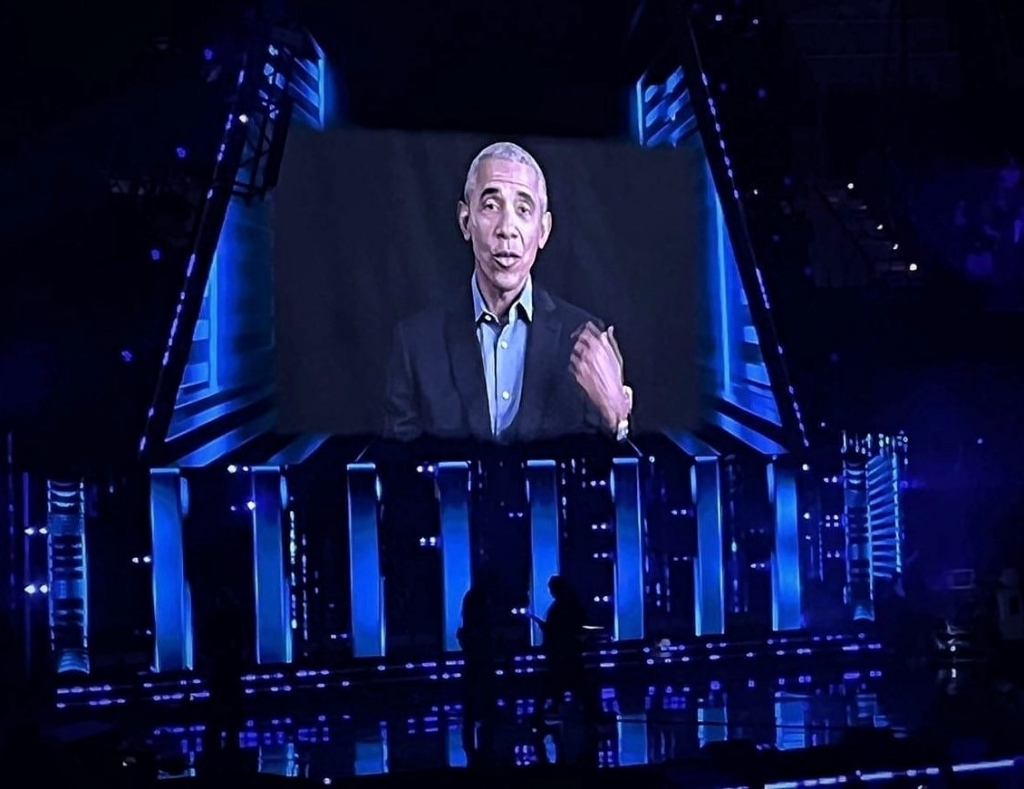 It's always a pleasure to work with Allen Branton and this Ceremony was no exception. Allen's attention to detail and expertise were on full display! 
This article was written by and posted on Chauvet's website which you can view here.
---
At its best, live music, particularly rock and roll, is driven by a deeply personal connection between fans and the artist on stage. TV viewers who tuned into HBO's recent broadcast of the Rock and Roll Hall of Fame Induction Ceremony were reminded of this time and again during the broadcast, even though the event took place inside a massive NBA arena.
Key to creating this sense of intimacy within the walls of the 152,970 sq. ft. Rocket Mortgage Fieldhouse was a lighting design by Allen Branton and production design by Bruce Rogers that drew audiences (TV and live) into each performance, while also allowing the stage to stand out against its cavernous surroundings without being overwhelmed.
Helping Branton accomplish the latter goal was a collection of 104 CHAUVET Professional COLORdash Accent 3 compact washes, which like the rest of the rig, was supplied by 4Wall Entertainment.  Positioning the RGBA fixtures along the sides of the stage as well as in the blacked-out seats behind and to either side of it, he used them to define space and maintain consistency between camera shots.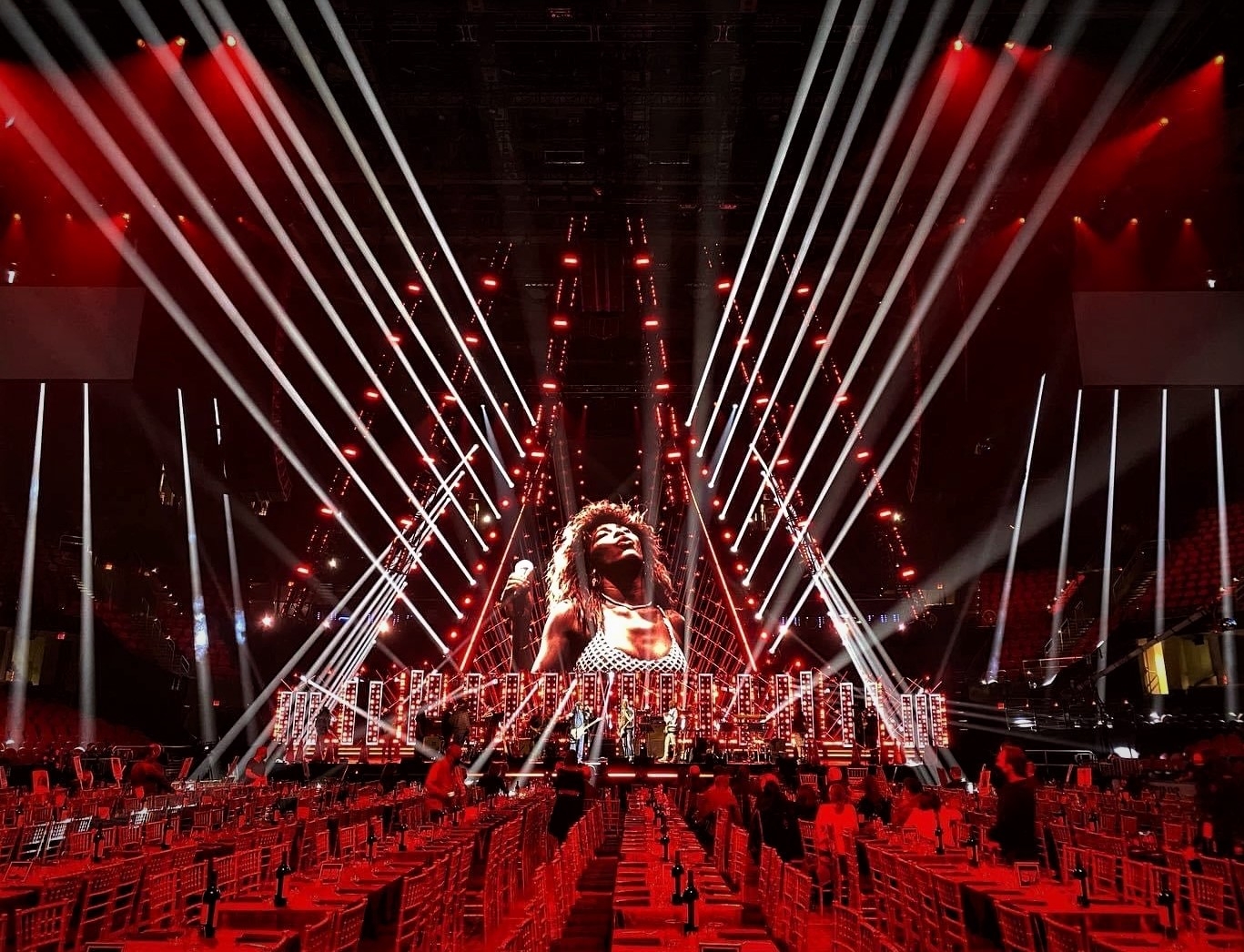 "The COLORdash units served as a point source element, a technique I have explored for many years," said Branton. "They filled space, when we went out to wide shots, helping us create a stage picture in scale within the huge venue. COLORdashes and some big beams in the blacked-out seats 60 or 70 feet behind the stage created a frame around our already large picture.
"TV is very cruel about scale," he continued. "If  we had  only 40 feet of stage lit, it would have covered the performers, but looked puny."
Of course, with over 700 lighting fixtures, including the Maverick MK3 Wash and Rogue R1 BeamWash, the Induction Ceremony stage looked anything but puny. At the center of the design was a parabolic video wall and a series of six "guitar strings" (actually vertically oriented truss units roughly 40-feet in height), as well as four shorter truss units, which like their larger counterparts, were vertically oriented and angled.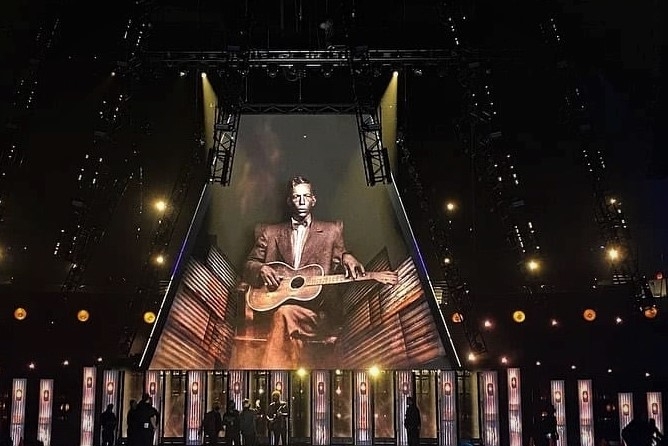 "The initial design had these long structures, we called 'guitar strings,' with center parabolic video wall emulating the Rock and Roll Hall of Fame logo," said Branton.  "This was fine, but we needed more upstage positions to get light behind the action too, so we added four shorter vertical  'strings' positioned further upstage."
In addition to creating more opportunities for backlighting, the four shorter vertical trusses, which were about 30-feet high, were part of a layered design approach, with the final layer being almost 100 ft. from the downstage edge.
Also deepening the looks were hard-edged lights on mid-stage truss trimmed 10-feet off the deck behind the video walls. The video wall layers were alternately hi-res opaque and lower-res blow thru (translucent), positioned at different depths.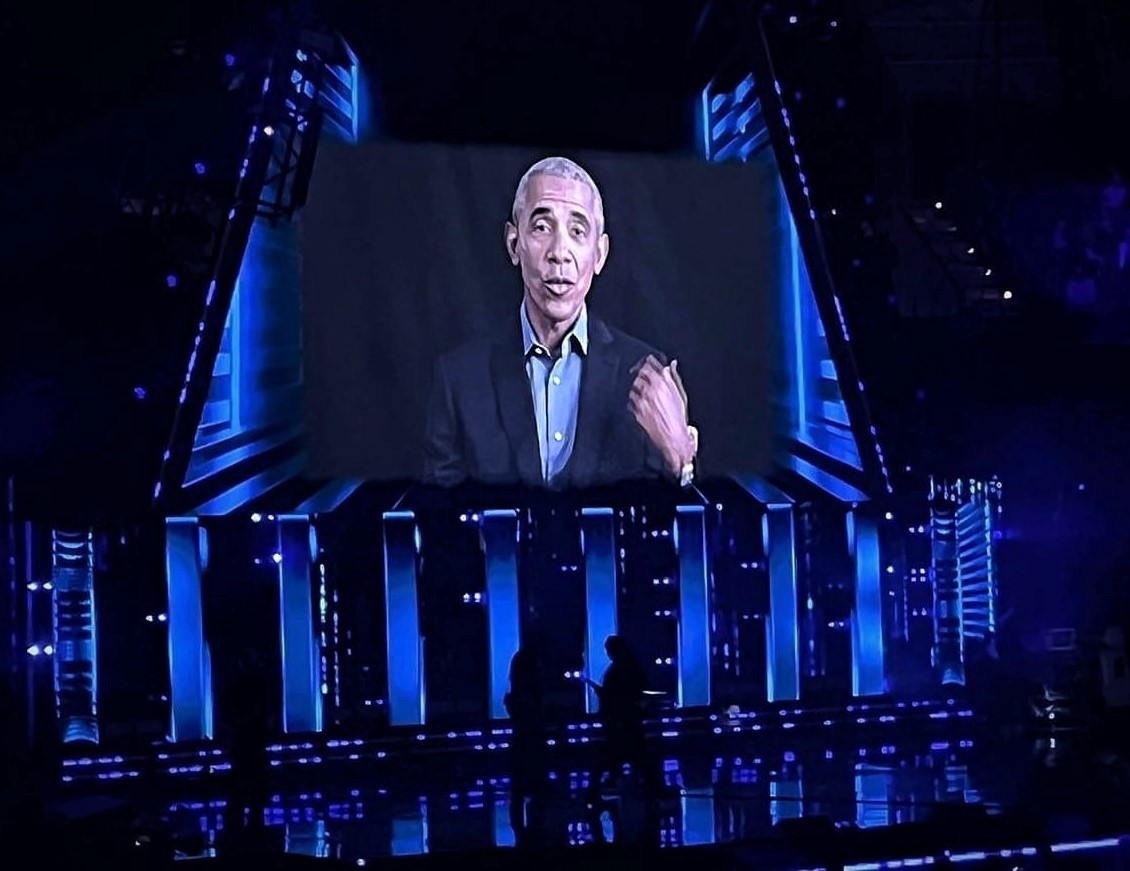 "A lot of what you saw in this show was blow through light, which really added a lot of depth to our looks," said  Branton. "You could see the light through the various layers of the set design, which made for richer pictures and also allowed for a great variety in our cue composition, something essential in a multi-act event of this kind."
The background video content created by Darmah greatly contributed to the seemingly endless variety of looks in this layered design. The video content, which consisted of breakout patterns and scenic looks as well as IMAG imagery worked seamlessly with the output from the rig's lighting fixtures, including the four Maverick MK3 Wash and 52 Rogue R1 BeamWash units, all of which were positioned on the larger "guitar strings" and used for creating camera-friendly visuals as well as audience lighting.        
"In the past, we didn't have the technological capability to manage video content the way we do now," said Branton.  "So, the background was defined by more portrait, static looks. Now, however, we can have a level of depth that the performers can inhabit so the visuals become more immersive."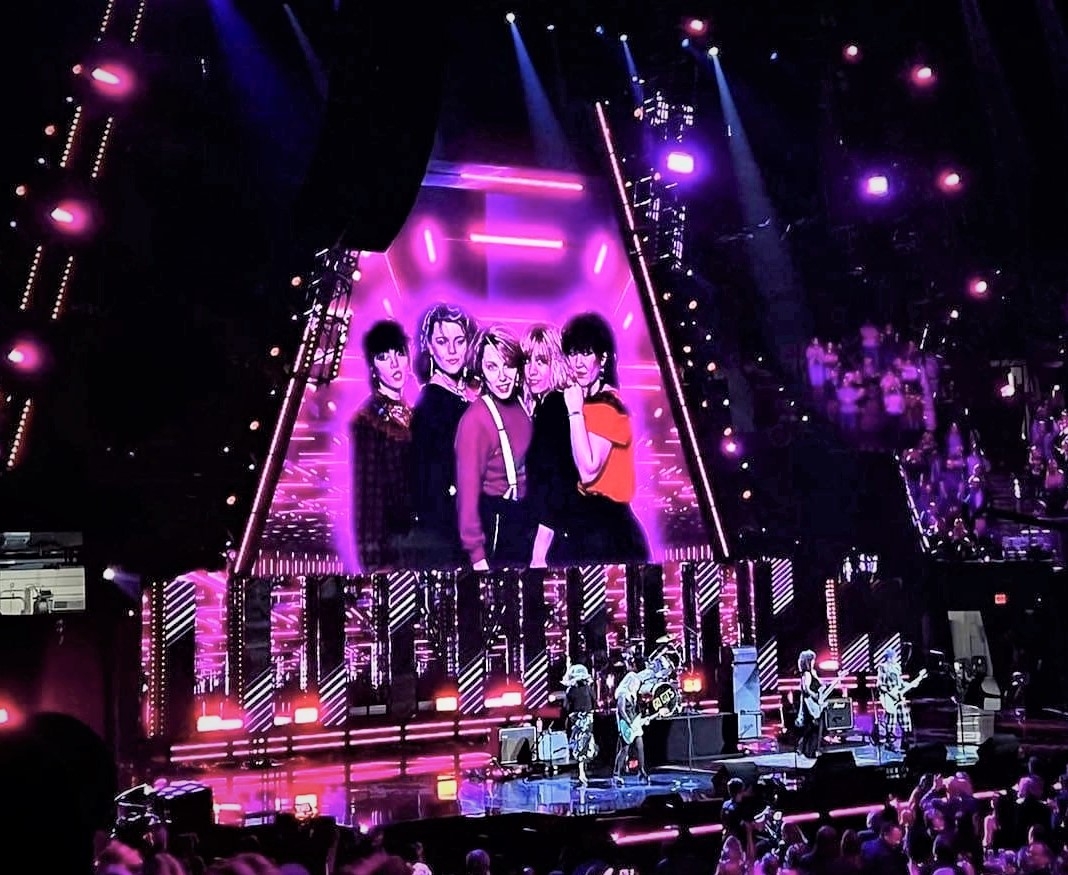 "This also gives us greater versatility, so with the Foo Fighters, it looked like the place was going to explode, as opposed to Brandi Carlile's tribute to Don Everly, or Taylor Swift's performance of 'Will You Still Love Me Tomorrow,' which were much gentler," he continued. "The team from Darmah did a masterful job providing video content for this show."
Although technology has changed the nature of production for a show like The Rock and Roll Hall of Fame Induction Ceremony, the teamwork among the crew remains just as critically important as ever.
Branton thanked his team: Felix Peralta, Kevin Lawson, George Gountas, Alex Flores, Michael Smallman, Adam Hagin, Matt Weede, Benoit St-Aubin, and Brendan Johns for contributing to the successful execution of the multi-level design. He also applauded the work of Bianca Moncada and her team at Darmah: Erick Mothelet, Jose Garcia-Reyes, Sergio Romero, Victor Martin, and Liangel Castellanos.
"We were fortunate to have such a great team," he said. "When you do these things, it is always tightrope walk without a net, but this one really turned out close to perfect.
Apparently, Branton wasn't the only one who felt this way. Reviewing the event, Rolling Stone described it as "one of the most entertaining induction ceremonies in memory."