About Us
4Wall In The News
4Wall Provides Lighting for Holiday-Themed Drive-Through Experience Jingle Beat
By Drew Quinones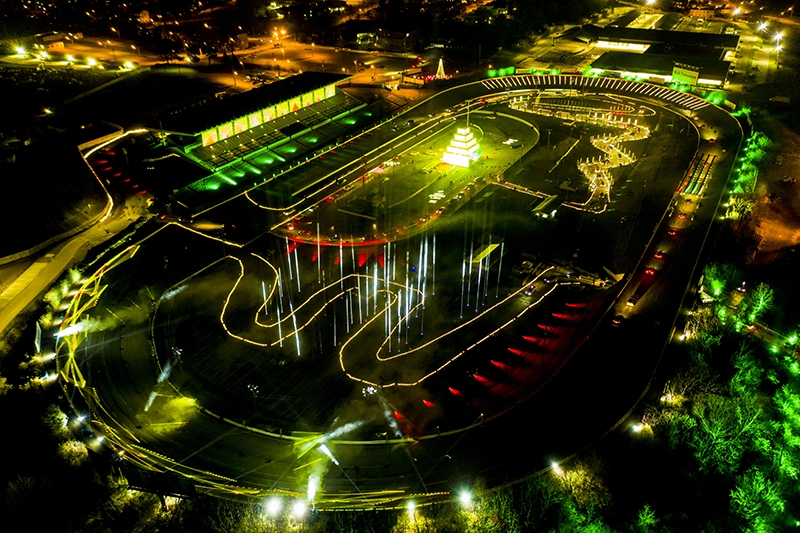 For the last four weeks of 2020, entertainment-starved patrons are flocking to the Nashville Fairgrounds Speedway to experience a holiday season spectacular, far from the usual Christmas Lights drive-through experience. A two-mile long course of lighting, laser, video, scenic, and audio overwhelms attendee senses as cars slowly drive through a range of exciting areas, immersed in different visual elements at every curve.
The idea for this unique event came from the two designers behind Cour Design, a Nashville production and lighting design firm that started up in 2015. When the industry shut down last March, partners Erik Anderson and Gordon Droitcour started brainstorming about what they could do creatively to keep the masses entertained and themselves busy. "Joining the drive-in concert scene or the livestream concert field felt like the old world. We wanted to come up with something fresh," Anderson says. "We bounced ideas around, and this one came up."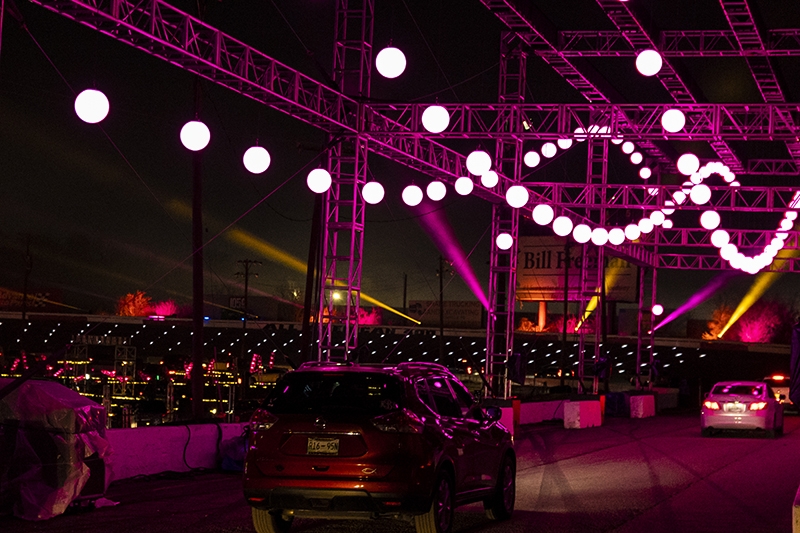 Cour Design has diversified itself as they have grown. They went from creating design solutions triggered by MIDI to creating media content for their shows. With this idea, they chose to expand its operations with a new branch that is dedicated to novel live experiences. Hence the emergence of Eamotion (eamotion.com). "Our goal was to change the visual theme one may expect from a drive-through experience. We strived to create an experience with seamless audio and visuals that was different from anything is done before," Anderson adds.
The Production
The production takes up the entire field of the speedway, with visual elements spilling off of the track. With a starting area performance and a lead car to follow, the show lasts 45 minutes as the three m.p.h. ride safely evades all obstacles. The event practices safe distancing along with touch-free ticketing and masked employees at the entrance. At each turn, the procession enters a new area, whether it be trusses with LED balls dancing down or a video pyramid that's as high as a four-story building.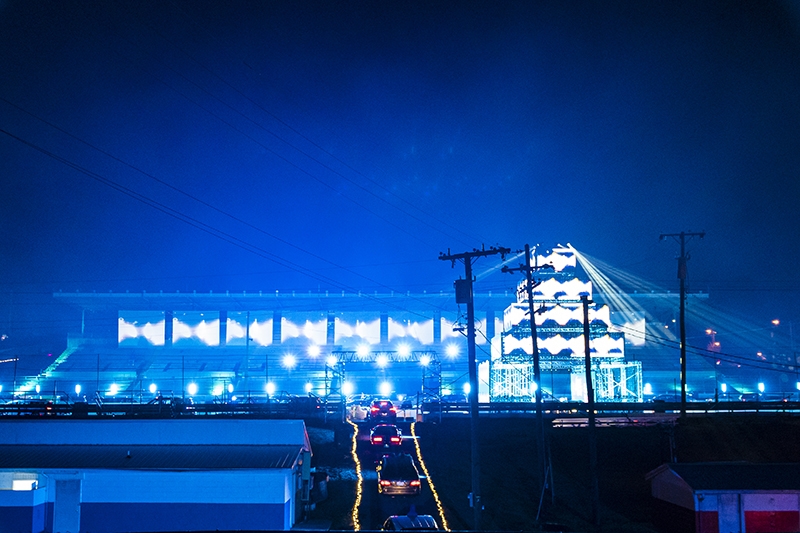 An hour-long audio loop combining well-known holiday tunes spruced up with some "modern beats" can be heard via each car's FM radio as well as Clair-supplied speakers that rock the entire venue. "The idea is, we wanted to put on a concert type show with all the spectacular visuals one might expect at an over-the-top stadium show but without the musical talent. Imagine The Great Christmas Light Fight TV show meets the Super Bowl Halftime show. This allowed our design team to pull out all the stops and do whatever they thought was visually spectacular, without the threat of any artist saying, 'Looks amazing, but it's not for me.'"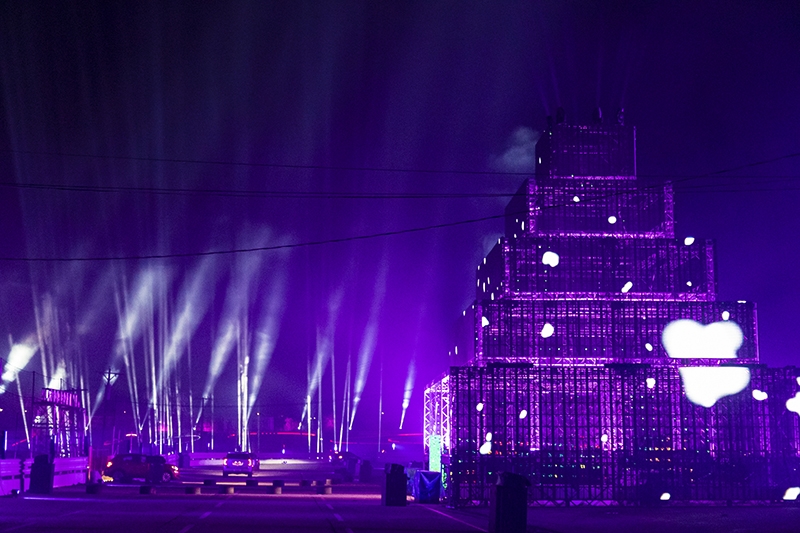 Anderson adds his theory behind the drive. "Everything is synced up to the same music, but everywhere your head turns, something else cool is happening. One can drive through the event multiple times and never see the same show twice. All of the visual elements are cued to the same music, so it doesn't matter where you are on the track; everything is in time to the same beat." Tickets were pre-issued in timed segments on the hour. Prices range from $45 off-peak to $60 at prime time, per vehicle. Visitors are also encouraged to donate to MusiCares' relief initiatives for roadies.
An Old Friend Steps In
As fate would have it, while the designers were contemplating how to pull off this idea, an old friend, Tye Trussell, called just to check in, offering kinship from his perch as head honcho of Gallagher Staging's Nashville location (gallagherstaging.com). This led to more brainstorming and some out-of-this-world ideas trying to conceptualize a truly immersive experience. Eamotion and Gallagher ended up partnering on the whole event, one that led to utilizing every piece of truss in Nashville, it seemed.
"This isn't a project that we could put together by ourselves," Trussell says. "It literally took a team at the top and a village to back it. Some 200 workers and help from every big company in town were involved to bring this vision to reality." 4Wall, LMG and PGP provided lights and Image SFX provided the lasers and special effects. On the video side, PRG provided the video elements while Rogue Servers looked after the media servers. When asked about power and signal distribution for the site, Anderson describes the setup as "a whole lot of generators," adding that "PRG supplied all the networking on site, utilizing some 11,000 feet of fiber."
An army indeed. When asked about where he found all the labor for this project, Tye says, "We just picked up the phone and started calling friends — out of work road crew — and I'll tell you what. Every person we called said 'I'm in. Tell me what you need. We can talk money later.' The camaraderie and sheer joy everyone on site had, to be outside and gigging again, was just unbelievable. I'm not sure we could've pulled this show off anywhere other than Nashville. All the vendors, the city behind us, the folks at Bridgestone — all showed up in a big way."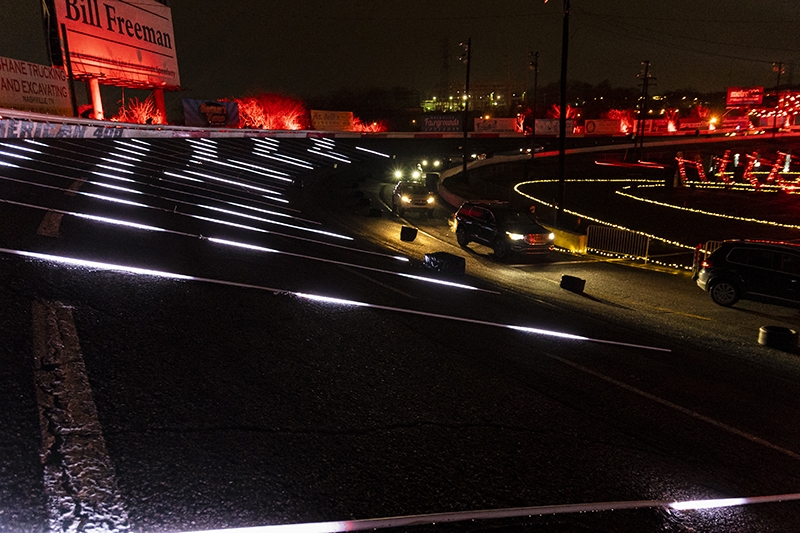 Anderson found himself in a whole new world with this venture. "For the first month, it was so exciting. Figuring out the layout and all the visuals that would accompany it. We soon realized that was the easy part. It was the next six months leading up to the event that needed our undivided attention. Unlike concerts, we didn't have an in-house staff to use for the event. Security, ticket sales, marketing, accountants, structural engineers, all had to be incorporated. Medical staff, a lead car, auto mechanics to deal with any car that broke down, power, signal, and this is all outside of programming. I guess one could say we had to build our own venue. It took a lot of integral people to figure out how to get 400 cars through the course every hour."
This led to hiring a production team to handle all the details. Eamotion brought in local production manager Nate Smith to run the weeklong load-in and load-out and look after all aspects of the production. To program all the lighting and tie the show together, LDs Bobby Grey and Darien Koop were brought in along with video programmers, laser operators, audio engineers, and more. The two LD's also took care of all the lighting plots and could be seen on-site driving around in golf carts with grandMA consoles on board. Tony Caporale joined the team, handling the laser programming. Cour Content created all the media content played back through countless video tiles. With most of the 200 crew members available in Nashville, the budget for flights and hotels was minimal.
The Future
The concept for the show is one that has been worked on for months, with the plan that this type of event can be modified and reused in many locations, with different themes. Wash, rinse, and repeat. Whether it be a Beatles Night or a Classic Car theme, the seed has been planted where an event like this could be put on anywhere from an empty field to an unused race track or added to an existing concert festival.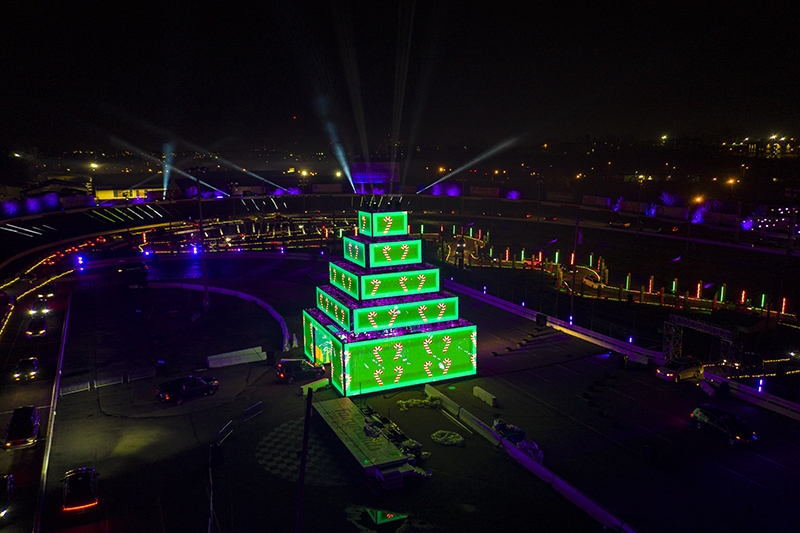 To ensure the success of the large holiday event, a trial run was done last September at the same venue with "Tempo," a first-of-its-kind pandemic-proof, drive-through entertainment experience. Erik explains, "We needed a test to make sure we could sync up the audio and visuals. We did a five-day run in which we tried to build something friendly for all demographics. It was successful, and of course, we learned a lot that benefitted Jingle Beat."
In conclusion, Anderson notes, "We didn't just want to do something that was temporary. We think this type of project can exist even after live music comes back." Trussell chimes in, "As far as I see this concept developing, we're only in the fifth inning right now. There's so much more we can produce. We have a lot of ball left to play." Stay tuned. We're told Eamotion has even grander ideas for this concept under their hats for the near future.
Production Credits:
Production Design: Erik Anderson (Eamotion), Bobby Grey (Notan Creative), Darien Koop (Darko Designs)
Executive Producer and Animal Trainer: Tye Trussell
Creative Direction: Erik Anderson, Emily Pierce (Eamotion)
Music Direction: Tyler Walker (Eamotion)
Lighting Programming: Bobby Grey, Darien Koop
Video Content: Gordon Droitcour, Mike Kluge, Jonny Kingsbury, Mollie Tarlow (Cour Content)
Laser Programming: Tony Caporale
Production Manager: Nate Smith
Operations Director: David Supica (Eamotion)
Site Operations: Joey Cicak (Eamotion)
Lead construction draftsman: Bryan Stubblefield
Vendors:
Staging & Site Build: Gallagher Staging Nashville
Lighting: 4Wall, PGP, LMG
Video & Networking: PRG
Media Servers: Rogue Servers
Special FX: ImageSFX