About Us
4Wall In The News
4Wall Mourns Passing of John Ward and Celebrates a Life Well Lived
By Drew Quinones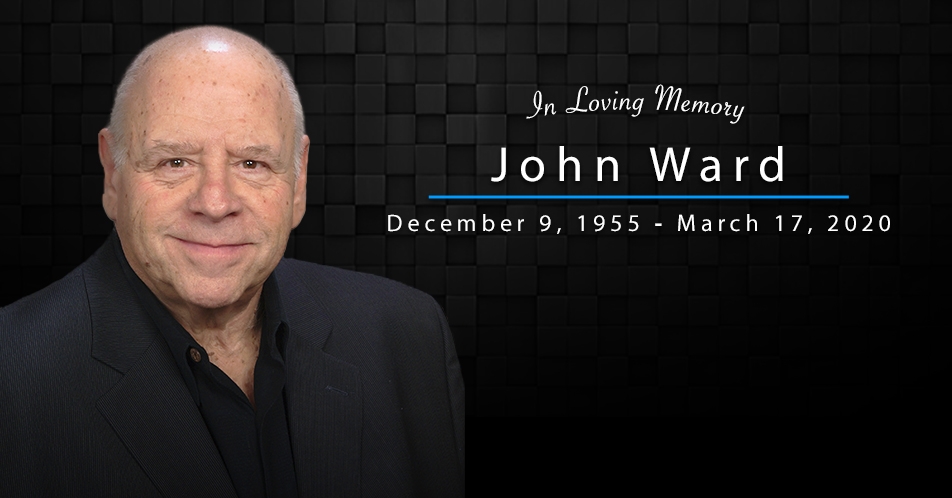 Detroit, MI - 4Wall Detroit (formerly known as Light Source, Inc.), lost one of its most treasured personalities recently with the passing of industry legend John Ward. Ward had been a staple of Light Source for more than 15 years and transitioned over to 4Wall in 2019 after the company was purchased. Ward's life and impact on the industry, his colleagues, and his family are all deserving of recognition and celebration.
Careers rarely result from jobs taken out of necessity, but that is just what happened when in 1975 pre-med undergraduate Ward accepted an offer from Reggie Rush to work for Fresno State University's College Union Sound and Stage, and later on Live Light. From Rush, Ward gained enough knowledge of the lighting industry that allowed him to form John Ward Productions in 1980, after completing his degree.
In addition to providing technical services for many corporate and community clients, John Ward Productions and its leader drew the attention of lighting innovator Vari-Lite in Dallas, Texas. In the summer of 1989 Ward signed on as the company's Worldwide Logistical and Scheduling manager and was later promoted to General Manager of the Shared Resource Group, a group that was responsible for 24/7 crisis management, logistics, road personnel, training and customer production for all 26 worldwide offices.
Todd Mertzel worked with John at Vari-Lite. Mertzel, now Sr. VP of Live Events with 4Wall, spoke of Ward and also told his favorite story about him
"John Ward, the man behind the scenes that made it all happen, that was his gift. He was a logistical guru that had a spreadsheet for every task, a file folder for every project and a desk that never had one thing out of place. He couldn't go home at night until everything was organized.
But what I'm going to miss the most are his stories and he had many… I think his all-time favorite, which he would tell as though it was his the first time telling (and probably was the 100th time he had told it)… was the day that he paid $25,000 to charter a private helicopter to fly a Vari-Lite Artisan console to a Rolling Stones concert and how it arrived 15 minutes before the curtain went up…. Oh, and it was his first week on the job at Vari-Lite!
I could never tell it the same as he did and I'm sure everyone reading this has probably heard it as many times as I have…. And smiled at his joy in telling it again."
Following the sale of Vari-Lite's manufacturing division to Genlyte-Thomas in 2002, Ward became Global Asset Manager of the newly formed VLPS Lighting Services. Ward left VLPS in 2004, following its merger with PRG. Ward joined Light Source Inc. as General Manager in 2005.
Ward's tenure with Vari-Lite and VLPS has given him a volume of professional experience that he is able to share with Light Source, having handled high-profile clients like The Rolling Stones in 1989, The XXVI Olympiad (Atlanta) in 1996 and various Millennium Celebrations in 2000.
Ward eventually made his way to Light Source, where he took over as General Manager, replacing Jeff Mateer. Jeff, now VP of Business Development for 4Wall, spoke of working with John, and also of spending time with him outside of work.
"Over the years, John and I were competitors, then I was a vendor and finally coworkers. No matter what the relationship was, we were always friends.
We vacationed at least three times with John and his wife, Tamra. His ultra-organization carried over into travel arrangements too. We remember him making a wrong turn and getting lost in Chicago when he was driving us all to a favorite restaurant. He was beside himself the rest of the evening and couldn't believe he failed to execute his vacation plan to perfection.
I think it was that trip when John handed me a shot of whiskey and asked what I thought about it. Only after downing the liquor did I realize he bought me a $100 shot of Pappy Van Winkle 15 year old bourbon. My wife Yvonne and I will miss the big gruff guy who had a heart of gold."
Rick O'Neill, Owner of Light Source and the man who hired John, spoke of his friendship with Ward and the impact he had on the company as it was grown over the past 15 years.
"John truly was larger than life. I'll never forget meeting him for the first time. In 2005, I was searching for a new General Manager and had yet to find the right fit, despite interviewing several candidates. I flew to Las Vegas to meet him where he was freelancing on a gig. We met over dinner and within fifteen minutes of meeting John in person, I knew he was the man for the job.
John was very passionate about everything he did. He was extremely well-traveled and he studied the history and culture of many of the places he had visited throughout his lifetime. I enjoyed our conversations learning the history of some of the places he traveled, especially the food and culture of his favorite U.S. city, New Orleans.
John was a good friend and was instrumental to the success of Light Source over the past 15 years and the transition to 4Wall this past fall. I owe him my gratitude for his dedication and passion to my business and the industry in general and am going to miss our conversations, stories and his leadership."
Ward also had a huge impact on the 4Wall team after coming on board when the company acquired Light Source. 4Wall President & COO Wes Bailey spoke of John's time with the company.
"From the moment he came on board, John wanted to learn every detail about our policies and procedures. His expectations for himself and his team were so high, everyone benefitted during the integration and the changeover from Light Source to 4Wall.
John wanted to work right up until the end. His last week he was following up with people to make sure timecards and payroll were processed correctly. He loved his team and this industry so much, it truly shone through and he made an impression on everyone that worked with him at 4Wall."
John is survived by his wife of 22 years, Tamra (Padilla) Ward, his sons Ryan Beatty and Christian (Ashley) Beatty and he adored his new granddaughter, Emma.
John loved the city of New Orleans and was a lifelong fan of the Saints. In lieu of flowers, his family is requesting donations to Friends of WWOZ in New Orleans at www.wwoz.org/donate/.