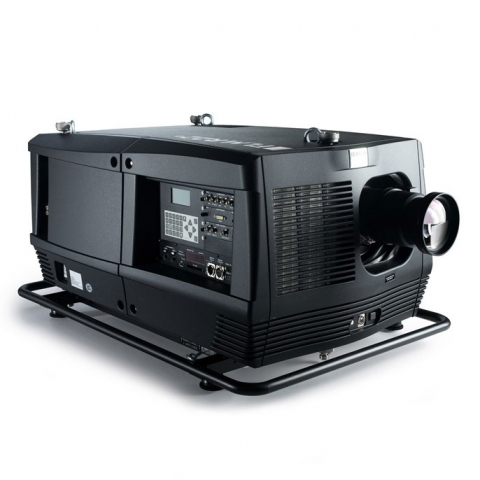 Barco FLM-R22+ Projector, 22000 Lumens
Details
Description
Barco's FLM-R22+ is an ultra-bright, durable projector with picture-in-picture capabilities. It is a perfect fit for any large venue that requires extra brightness to show clear, crisp images in a luminous environment. Thanks to its 22,000 lumens light output, the FLM-R22+ is able to display widescreen, high-contrast images of superior quality even in venues with lots of ambient light.
4Wall Entertainment Lighting is a rental company with locations nationwide. Since 1999 we've been providing quality stage and theatrical lighting equipment from the industry's top manufacturers. Request a rental quote for this item now and receive a response within one business day!
Specs
Features
Projector type: SXGA+ 3-chip DLP digital projector
Technology: 0.95" DMD x3
Resolution: 1,400 x 1,050
Brightness: 22,000 center lumens / 21,000 ANSI lumens
Contrast ratio: 1,700:1 / 2,200:1 (high contrast mode)
Brightness uniformity: 90%
Aspect ratio: 4:3
ScenergiX: Horizontal and vertical edge blending
Lens type: TLD+
Lenses: 0.73:1 ; 1.2:1 ; 1.25-1.6:1 ; 1.5-2.0:1 ; 2.0-2.8:1 ; 2.8-4.5:1 ; 4.5-7.5:1 ; 7.5-11.5:1
Optical lens shift: Vertical: -10% to +110% / Horizontal: -50% to +50% (on zoom lenses)
Color correction: P7
Buy it Used

Thinking of purchasing rather than renting? UsedLighting.com is a division of 4Wall Entertainment that provides a safe place for buying, selling, and brokering quality used stage lighting equipment. The site carries technician maintained inventory sold directly from 4Wall rental stock that includes unparalleled warranties and customer service.