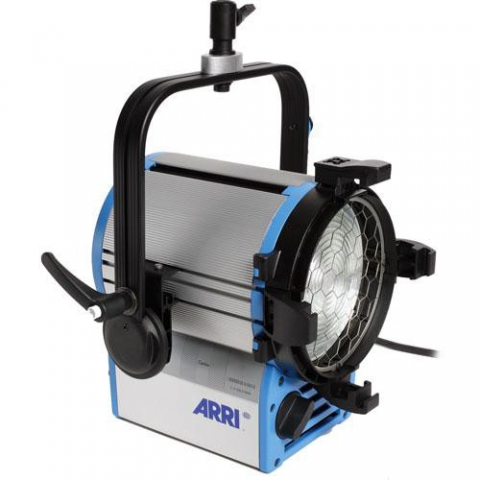 Details
Description
Arri's 2K Location Fresnel boasts a low weight, compact size while still putting out 2000 watts of power at 120VAC. When fitted with a 2000 watt bulb this fixture will provide a 4.6' (1.4 m) diameter beam of 470 fc from a distance of 19.8' (6 m) at full spot. At full flood (same distance) it will provide a fc beam 22.8' (6.9 m) in diameter. Arri's cross cooling system reduces lamp housing temperature by 25% and lens temperature by 17%. With special air channels built into the aluminum extrusion, a constant stream of air passes around the Fresnel lens and into the lamphead regardless of the tilt angle.
4Wall Entertainment Lighting is a rental company with locations nationwide. Since 1999 we've been providing quality stage and theatrical lighting equipment from the industry's top manufacturers. Request a rental quote for this item now and receive a response within one business day!
Features
Stirrup mounting slides and can be adjusted to counterbalance all accessories
Soft contour makes it comfortable to carry
The stainless steel friction disc locks the lamphead securely even with the largest Chimera or other accessories
Meets IP23 standard -- suitable for indoor use or outdoor use providing a degree of protection against falling rain (up to a 60 angle from vertical)
CE declaration and independently assessed TUV certification
Rating: 2000 watts, 120-240VAC
Focusing: Front & rear mounted knobs
16lbs.
18.5" x 8.4" x 10.25" including yoke and mount
Buy it Used

Thinking of purchasing rather than renting? UsedLighting.com is a division of 4Wall Entertainment that provides a safe place for buying, selling, and brokering quality used stage lighting equipment. The site carries technician maintained inventory sold directly from 4Wall rental stock that includes unparalleled warranties and customer service.