4Wall's Barbara Brennan Featured In Lighting & Sound America Magazine
By Jay Agamao
Mar 2, 2023, updated Mar 8, 2023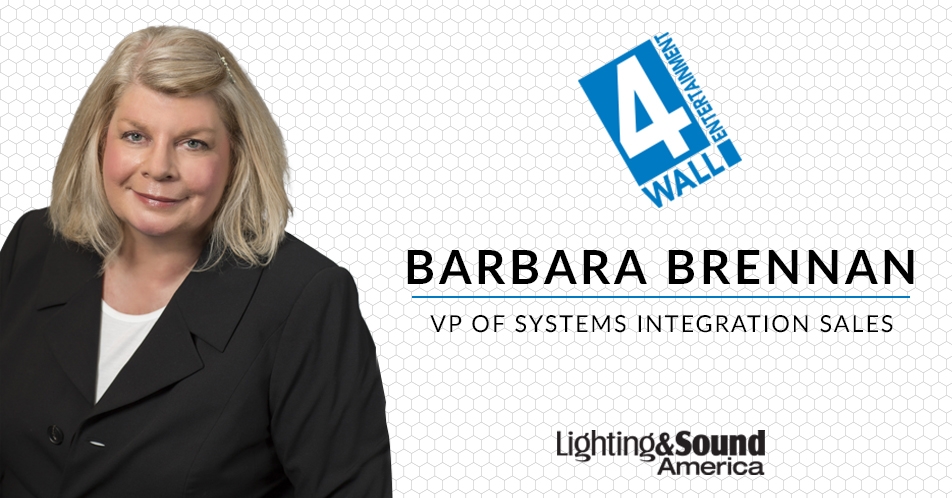 This article was published by Lighting & Sound America magazine, you can read the full article here.
---
In January, I had the pleasure of sitting with industry veteran and 4Wall VP of Systems Integration Sales Barbara Brennan. I helped interview her for an article that highlighted how she got her start in the industry and how her career, spanning decades, has come to where it is today. The interview was for the February edition of Lighting and Sound America magazine.

Sitting with her and listening to her stories and experiences was intriguing. I could sit and talk with her all day. Hearing her stories, from working in show business during the Las Vegas mob era to where she is now, was fascinating.

Read Barbara's interview below:
Lighting & Sound America (LSA): Tell us about your family's roots in the lighting industry.

Barbara Brennan (BB): My parents met while touring with Catholic University of America's University Players. My mother, June, was an actress and my father, Jim, was a tour tech director. They married and took up residence in Chicago, working in the theatre/TV business. They then moved to Teaneck, New Jersey, where my Dad became a well-known production carpenter on Broadway while my Mom raised five rambunctious children. In 1968, my Dad decided to leave Broadway and moved the family to Las Vegas. He and his business partner, Danny Sarris, opened Cinema Services of Las Vegas. We were the primary supplier of lighting gear for theatre, television, and showrooms on the Strip.

LSA: When did you decide to make lighting your career?

BB: When I enrolled at UNLV, I planned to become an actress. After being exposed to directing, I knew I was a better director. I still direct theatre in Las Vegas. While attending UNLV, I went to work for my Dad at Cinema Services, starting in sales and accounting. It was a family business, so we (my brothers Seamus, Bill, Tim, and I) wore many different hats. There came a time when I told my Dad I wanted to work on events. My first projects were running the Cinema Services crew and handling the lighting gear for ABC, HBO, and Showtime boxing events. Working on these productions taught me more than I had ever learned at school.

LSA: What was your first job after Cinema Services?

BB: My Dad had passed. Cinema Services was sold to what is now PRG. I had gotten married, and my husband had been offered a job with Pacific Bell in San Diego. I started my own company, Brennan Productions. In California, I was lighting conventions, special events, entertainment, and sports television. I would travel back to Vegas to light events; I didn't want to abandon my roots. Then I got the call from ABC Sports, looking to see if I would light competition figure skating. That was my next big thing. I worked for ABC Sports for 13 years, traveling all over the US and the world. I was responsible for lighting figure skating, boxing, and gymnastics. I even had the opportunity to light the ABC broadcast booth for the Rose Parade. My focus was sporting events. I ended up working with my brother, Bill, a top broadcast lighting director, on the 2000 Sydney Olympics and 2002 Salt Lake Olympics.

LSA: What made you return to Vegas?

BB: My husband and I parted ways, which was sad, but with the choice of staying in California or moving back to Vegas...Vegas was my home. I still had my company and was traveling extensively. I became a rep for Strand Lighting in Las Vegas, working with Randy Pybas. We supplied equipment for many theatres on the Las Vegas Strip. That's when I got a taste for working in systems integration. I enjoyed it because every project was different. The problem-solving was stimulating, and you could point at a system and say, "I worked on that." Tim Sage, a VP at Wynn, hired me as director of production services at the Wynn Convention Center. I ran the convention area for production lighting, audio, and video. Wynn Resorts had been open for about five years when PRG reached out with a proposition to work in the systems integration department. I ended up being there for seven years. I had the pleasure of working with Jim Holliday and my dear brother Timothy. We were a great team, we worked on many projects, and I found Jim Holliday to be a great teacher. Unfortunately, I started to get antsy-I believe it's a "Brennan thing." Mark Fetto, of Morpheus Lights, reached out to me and I decided to make a change.

LSA: What caused the move to 4Wall Entertainment?

BB: Bill Lairamore and Bill Groener at 4Wall were looking for another salesperson in systems, and my name came up. Lairamore and I had talked a few times about coming to 4Wall, but it had never seemed to be the right time. Finally, it was. I've been here since 2013. We have a group of extraordinary people. Everyone in the systems office helps and supports one another. Seeing this 4Wall department grow and take on larger and more complex projects has been so exciting.