4Wall Set to Sponsor Las Vegas Valley Theatre Awards
By Drew Quinones
Created Jul 6, 2016, updated Mar 6, 2017 in
General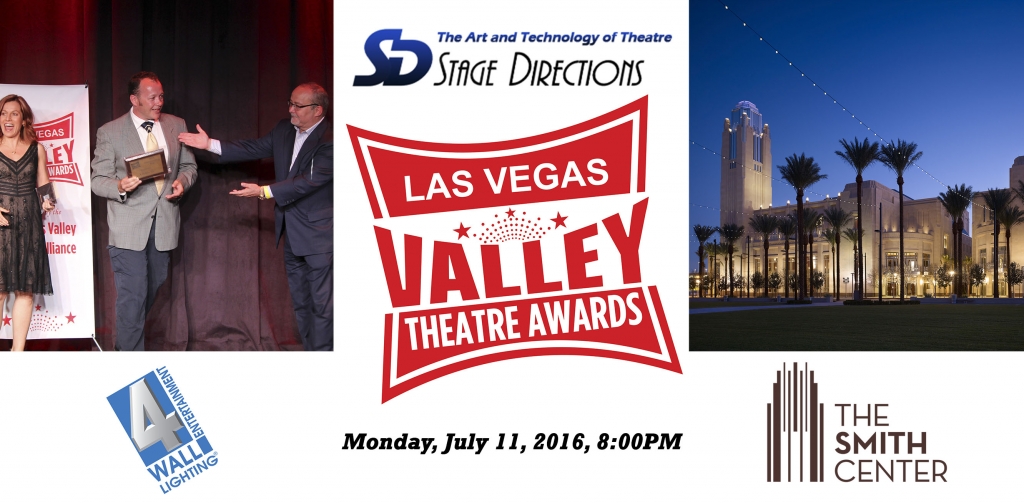 The Las Vegas Valley Theatre Awards honors and celebrates the best of locally produced theatre, the nominees, and theatre companies from across the valley. We are excited to be part of this award ceremony that takes place in our own backyard. The awards show will be held on Monday, July 11 at the Smith Center in Las Vegas, NV. Performances from the best shows of year, previews of upcoming productions, original songs created specifically for the show, and surprise guests will make this a memorable night for all the attendees.
Our VP of Marketing and Integration, Wes Bailey, spoke with Stage Directions about the event. Check out an excerpt from the write up below, and head here for the full story and event details.
The Valley Theatre Awards honor the best of locally-produced theatre in Las Vegas, and they couldn't do it this year without the help of 4Wall Entertainment Lighting and Stage Directions magazine. 4Wall will be a Producing Partner for the Awards, helping the celebration fill the house at The Smith Center for the Performing Arts. And Stage Directions continues to support the people who make theatre happen, sponsoring the Stage Directions Best Costume Design and Stage Directions Best Scenic Design Valley Awards.
"We're happy to support the Valley Awards as they recognize and celebrate great theatre," said Wes Bailey, VP of Marketing & Integration for 4Wall and UsedLighting.com. "4Wall may be a national company now, but we started in Vegas and continue to call it our headquarters. Supporting the local theatres that have long been a part of our customer base is something we pride ourselves on."
In addition to supporting the Awards ceremony, 4Wall will support the Valley Awards online calendar (www.lasvegasvalleys.com/upcoming-events) so that audiences can find great theatre throughout the year.