4Wall Trunk or Treats with Local Police Department
By
Created Jan 6, 2016, updated Mar 6, 2017 in
General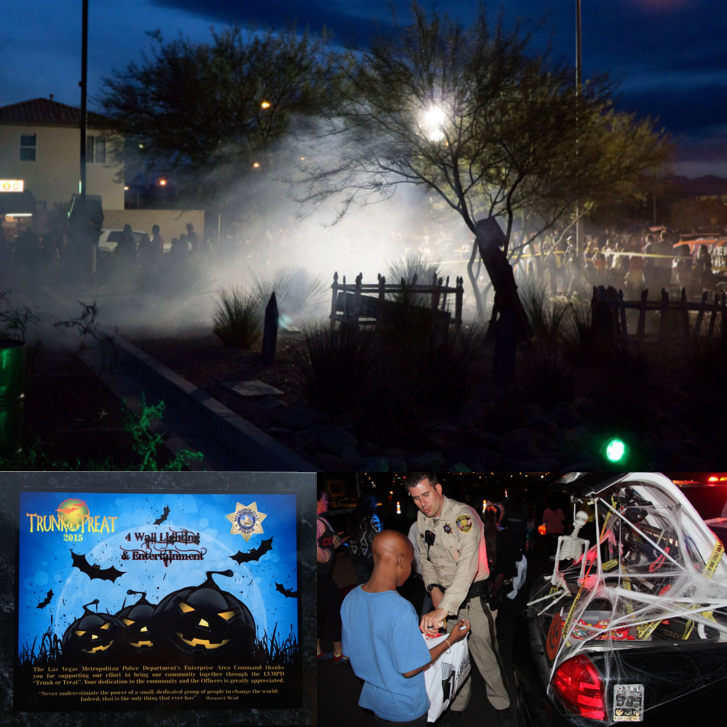 The Trunk or Treat and Haunted House was organized and put on by police officers assigned to Enterprise Area Command in Las Vegas. Last year was the first time ever in Las Vegas Metro Police Department (LVMPD) history where an area command had an on-site haunted house. This year's goal was to make the event bigger and better. The Enterprise Area Command front office, community briefing room, and parking lot were transformed into an incredibly detailed and elaborate haunted house. The Trunk or Treat event expanded into the street and Windmill Lane was partially shut down for the guests. This created an amazing area filled with over twenty-five vehicles with trunks full of candy, a hay maze, entertainment, face painting, food vendors, and music.
A statement from the LVMPD said, "We truly appreciate your efforts and participation in the 2nd Annual EAC Trunk or Treat and Haunted House. Without the assistance from businesses such as yours, we would be unable to reach our goal of becoming the safest community in America. As a result of your assistance, we were able to provide a safe, controlled environment for over 6,000 children and adults to participate in the festivities. All of which left the event in total disbelief of the phenomenal product that was on display at Enterprise Area command. You were a major part of making that happen!"
On behalf of everyone at 4Wall Las Vegas, it was our pleasure to team up with the local Police Department and make this Halloween a spooktacular event for our community!