Win A Trip to USITT or Hemsley Portfolio Review
By Luke Lytle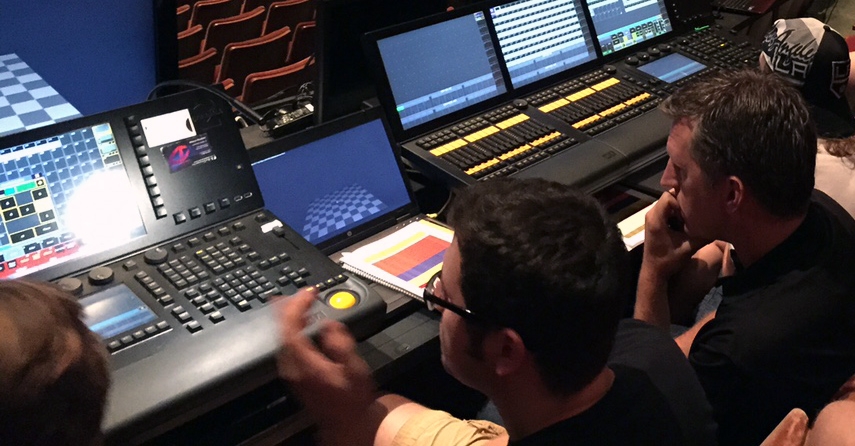 Are you a college student majoring in theatre, design, or any other lighting discipline? If so, then this contest is for you! 4Wall & Stage Directions want to see 10 cues from a show you worked on this past season. Submit a video of your cues and you may just win an amazing opportunity to rub shoulders with pros and peers alike at either the Hemsley Portfolio Review or USITT!
You can choose to work solo or team up with someone, one designer and one assistant designer. The show does not have to be real to be elligible for the contest, and you can choose which console and lighting instruments to work with. The deadline to enter the contest is February 26th, and the winners will be notified shortly after that. If you have any questions, feel free to send an email to contest@4wall.com. Good luck!
Contest Rules:
- Program 10 playback cues of a real or fictional show on a console of your choice
- Shoot a video going through each playback of your show - Post the video to YouTube
- Submit the video link via email to contest@4wall.com by February 26th
- In the email include details of the console and lighting equipment that you used
- Two students can participate in a group - One Designer & One Assistant Designer
- Must be a student currently enrolled in a college or theatre program
- Contestant must currently reside within the continental US
Grand Prizes:
- All expense paid trip to Hemsley Portfolio Review in New York - April 2-3, 2016:
Rub shoulders with leading theater professionals in an intimate setting! The Portfolio Review is designed to give students the chance to meet first-hand with professional lighting designers so they can get advice from those already working in the industry. This unique opportunity will allow you to ask questions, network with like minded peers and get feedback on your personal portfolio.

- All expense paid trip to USITT Show in Salt Lake City - March 16-19, 2016:

Generate new ideas while examining the newest products in the industry! Throughout the week choose between hundreds of workshops, presentations, technical displays and interview opportunities for designers and technicians. The conference gives you the opportunity to increase your knowledge of the industry all while networking with other professionals and students in the stage/theatrical field.