4Wall DC Provides Chauvet Movers for Pigeons Playing Ping Pong
By
Created Mar 2, 2015, updated Mar 6, 2017 in
General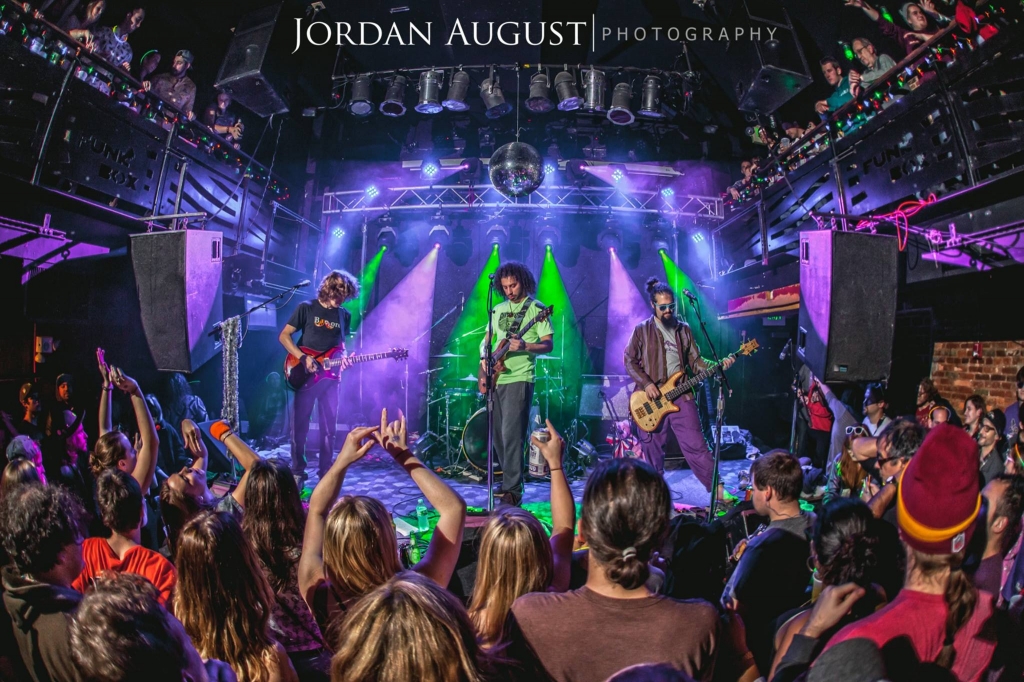 Pigeons Playing Ping Pong, a band with riffs as eclectic and psychedlic as the name suggests, recently purchased Chauvet Rogue R1 Spots from 4Wall DC.
LD Aaron Kovelman spent time in the DC shop testing out different fixtures, and was impressed with the customer support from the 4Wall team:
"Scott Church runs an awesome operation at 4Wall's DC location, and he's been really great at connecting me to fixtures that fit my vision and fall within my budget."
Thanks to the kind words Aaron! You can read the full story of why Aaron chose the Rogue R1 for the Pigeon's upcoming tour in the full article below from Chauvet:
BALTIMORE, MD - Back in the 1950s, noted psychologist BF Skinner grabbed headlines by using controversial behavioral modification techniques to teach pigeons to play ping pong. Today Pigeons Play Ping Pong is making waves again, not with psychology, but with psychedlic riffs along with some funky rock and extended jams that are attracting an ever-expanding flock, as their fans like to call themselves, to this up-and-coming band.
Lighting designer Aaron Kovelman (aka Ronny Redrocks) is having fun keeping pace with Pigeons Playing Ping Pong's improvisational performances with the help of eight Rogue R1 Spot fixtures from CHAUVET Professional.
Kovelman worked with 4Wall Entertainment Lighting to include the powerful LED spots on his client's national tour for reasons both practical and passionate. "For sure, there are a lot of things about the Rogues to like, and 4Wall helped connect me to them," said the LD. "Scott Church runs an awsome operation at 4Wall's DC location, and he's been really great at connecting me to fixtures that fit my vision and fall within my budget. I decided to use the R1s for Pigeons' tour for many reasons. For one thing, I like that they are lightweight, because it makes setup and breakdown easier on tour.
"The Rogues are also easy to place in various positions and orientations as a result of their light weight," continued Kovelman. "This is important because the band plays on stages that differ widely in size. You can wind up rigging them differently just about every night. Sometime they will be hung from truss, on cases on the floor, mounted on top of vertical truss towers. My ideal setup is four flown high and four low to get a full-depth look."
It is the performance of the Rogue R1 Spot, however, that trumps the fixture's practical benefits for Kovelman. "Practicality aside, this one powerful light," he says. "At 140 watts it will be able to hold up to some of the larger size/lamp fixtures that we encounter on big festival rigs. The two gobo wheels are exciting for me, as they have many looks to choose from. I was limited to one wheel fixtures and varying types of fixtures before, so I was unable to get clean gobo looks. Also, being able to have a motorized focus between the two allows for some cool psychedlic morphing."
Keeping pace with the free-flowing jangle-tinged flight that is Pigeons Playing Ping Pong music presents a wonderfully unpredictable challenge for any LD. It's one that Kovelman, who uses a grandMA2 and Luke Stratton APC Midi setup, meets with enthusiasm. "Lighting Pigeons is in many ways unique and very gratifying," he said. "Keeping the band illuminated with a good wash is super important with Pigeons, because they are extremely theatrical, and are almost always doing something visually that shouldn't be missed.
"This has been a fun challenge; it makes me hold back a little on going crazy with my lights, and keeps my show more focused on the music," continued Kovelman. "However, due to the nature of Pigeons' psychedlic-funk, there are large improvisation sections that really allow me to dig deep, and open up as a lighting designer. These long jams are the moments where I am really not only trying to build individual looks, but going through all my special chases, effects, and fun stuff. I definitely like to be more aggressive visually in these sections."
Although the inspiration of these aggressive looks comes from his own creative sources, Kovelman praises tools like the Rogue R1 Spot fixture for helping me express this vision. "As a designer, I start with a direction in mind," he said. "I'm grateful that the R1s can help me achieve this direction because of their fast pan/tilt speed, ultra-crisp beams, and smoth gobos. They're versatile fixtures that can do many things. Plus, for anyone interested in creating some cool pschedlic looks, they're spot on."