About Us
Press Center
4Wall Nashville Provides LD Andy Rushing with Gear for Lauren Daigle Empires Tour
By Drew Quinones on Aug 10, 2016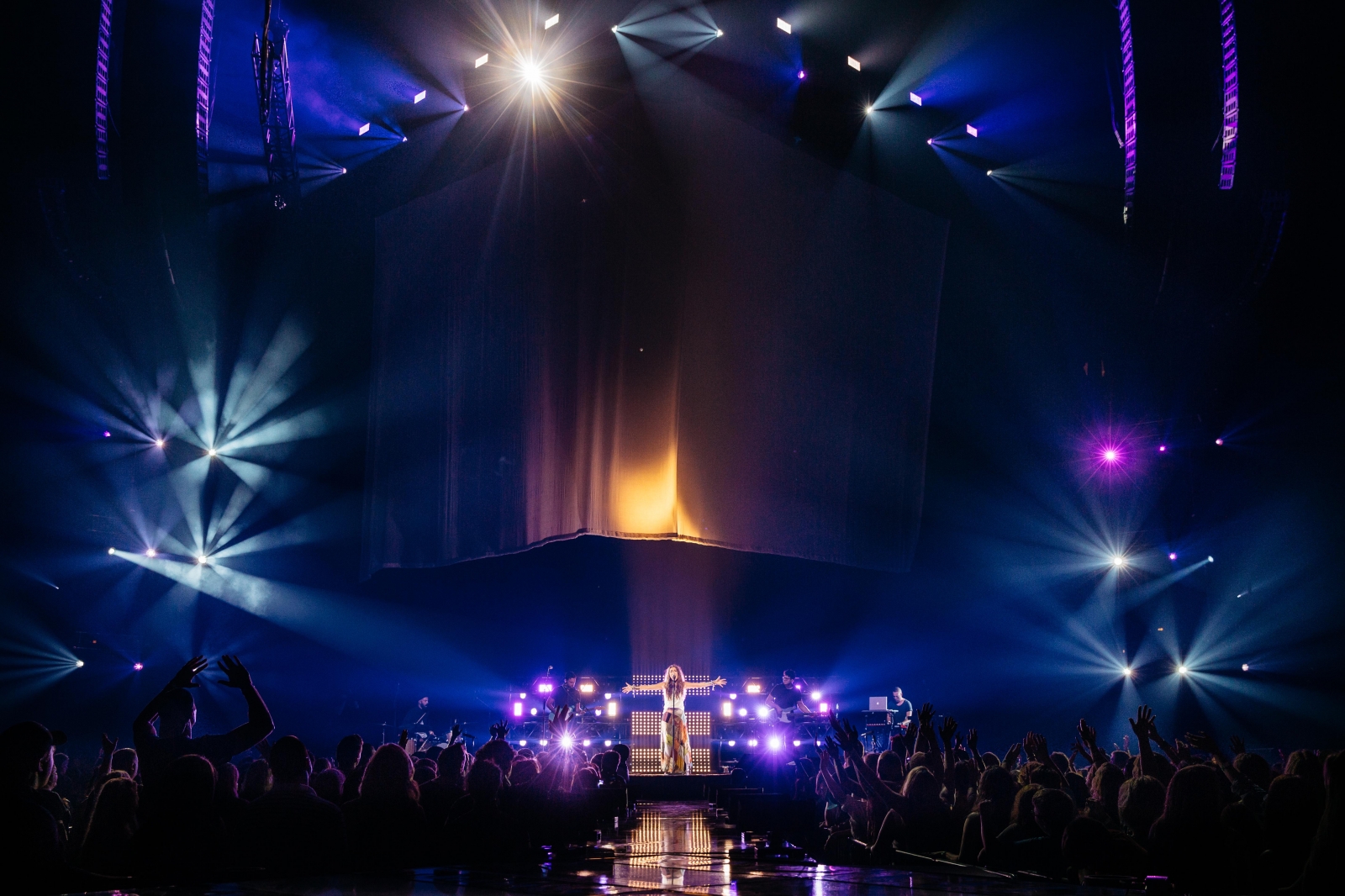 Lauren Daigle's music career has taken her from the American Idol stage to her very own stage on tour with Hillsong United. Lighting Designer Andy Rushing was tasked with lighting her first tour run night in and night out using gear from 4Wall Nashville.

The first leg of the Empires tour kicked off earlier this year. LD Rushing's design for the first leg consisted of two sticks of Tyler GT Truss on wheels and three 6ft. pipes mounted vertically on each truss. "These pipes held four Chauvet Rogue R1 washes each, and created a backdrop of twenty-four R1 washes behind Lauren," said Rushing. "We had the idea of using the GT truss as set carts so everything could roll on and off the stage easily."
Rushing ran into some height issues with the 6ft. truss being too tall for doors and backstage areas. For the second leg of the tour, he decided not to use the pipes at all. His solution was to double-stack two sets of 8ft. Tyler GT Truss again provided from 4Wall Nashville.
"This kept our set cart idea while giving us the proper height to navigate through doorways and backstage areas," explained Rushing.
Both sets of truss roll out of the trailer and on the stage fully built and ready for the show. "This makes our setup and tear down time really fast," said Rushing. "We are able to be off the stage and loaded in the trailer in 35 minutes."
Rushing utilized the pixel control of Chauvet Nexus Aw 7x7 panels to create some fun effects and powerful silhouette moments of Lauren and the band. "I was also able to us the panels to create some nice directional shapes across the stage," he explained.
Two TMB Solaris Flares are used to uplight Lauren. "The Solaris Flare colors are super even and saturated," explained Rushing. "Having the option to uplight her allows me to get creative with key light and not use spots as often."
The LD was also impressed with the quickness of the of the Chauvet Rogue R1 washes. "The R1 washes are very compact and quick, which makes them great in large numbers," explained Rushing. "I could not be happier with the fixtures I have on this tour!"
The Empires tour wrapped at the end of July. Rushing's most memorable moment on tour was playing the Forum in Los Angeles. "That was hands down the coolest and most iconic venue I've ever been in," said Rushing. "I would definitely like to go back there someday as the headliner."
Follow Andy Rushing on Instagram @andy_rushing
Photos by Ashley Mae Wright ashleymaewright.com