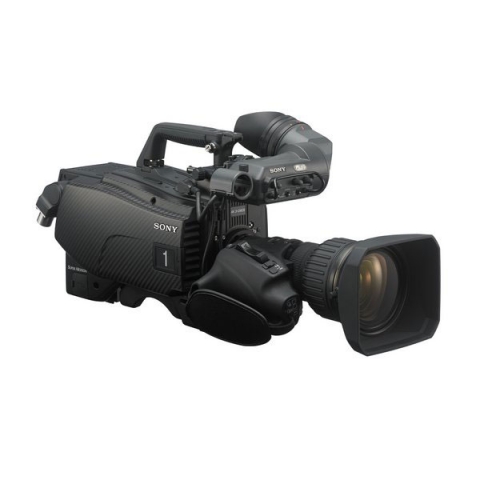 Sony HDC-4300L 4K Camera Package
Details
Description
The HDC-4300L is the world's first 2/3" CMOS Full 4K Sensor camera. The camera produces breathtaking 4K, HD and HD HFR (High Frame Rate) images (with the appropriate software packages). The Sony built 2/3" full 4K imagers and optical system covers a wide color gamut, supporting ITU-R BT.2020.
Flexible, no-compromise production in 4K and HD The HDC-4300 puts you in total control of your content. For the first time, one camera platform is all you need to handle 4K, HD and super slow motion – helping you generate maximum returns on today's production budgets. Delivering uncompromised image quality, the HDC-4300 integrates seamlessly with HD infrastructures and accessories as well as the world's most advanced 4K live production workflows. 
Package Includes:
Sony HDVF-EL75 7.4" OLED Viewfinder
Sony HDVF-EL20 0.7" Full HD Color OLED Eyepiece
Sachtler VIDEO 20 S1 + HD Speed Lock Carbon Fiber Tripod 20S1 100mm (Mid-Level)]
Sony HDCU2500 - Camera Control Unit
Sony BPU4000 - Base Band Processing Unit: 4K/UHD HD Cutout and High Frame Rate Video Outputs and Control
Sony RCP-1500 Camera Remote Control Unit
Sony CNA-1 and 3D Mouse (Space Navigator)
SMPTE Hybrid Fiber - 100m (330ft) Standard
4Wall Entertainment Lighting is a rental company with locations nationwide. Since 1999 we've been providing quality stage and theatrical lighting equipment from the industry's top manufacturers. Request a rental quote for this item now and receive a response within one business day!
Specs
Features
Superb 4K capability with wide dynamic range and wide color space.
High-frame-rate HD capture for 8x super slow motion.
HD cutout function for clear images.
Smooth and easy migration from HD to 4K.
Seamless integration into Sony HD workflows.
Built-in-Filters: ND: 1: CLEAR, 2: 1/4ND, 3: 1/8ND, 4: 1/16ND, 5: 1/64ND; CC: A: CROSS, B: 3200K, C: 4300K, D: 6300K
Horizontal Resolution: 2000 TV lines (at center) in 4K, 5% or higher modulation
Pickup Device: 3-chip 2/3-inch type CMOS
Sensitivity: F8.0 (2000 lx, 89.9% reflection)
Spectrum System: F1.4 prism