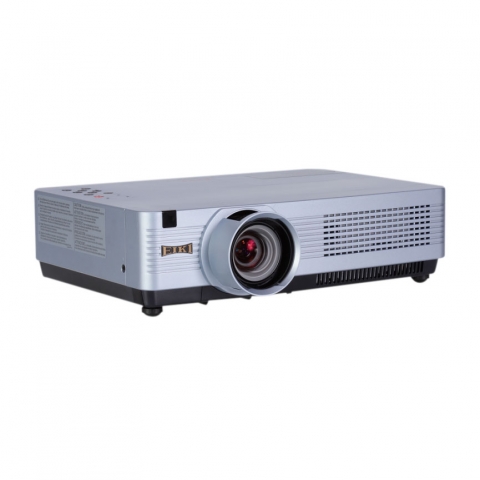 Eiki LC-XB100 Projector, 3000 Lumens
Details
Description
The LC-XB100 projector utilitzes built-in multimedia features and LCD technology. It features a fast, wide-range zoom lens, network monitoring and control, and quiet operation. Its compact design makes it easy to carry and install. 
4Wall Entertainment Lighting is a rental company with locations nationwide. Since 1999 we've been providing quality stage and theatrical lighting equipment from the industry's top manufacturers. Request a rental quote for this item now and receive a response within one business day!
Specs
Features
Display Technology: 3 panel LCD
Native Resolution: XGA (1024 x 768)
Max. Computer Input: UXGA
Max. Video Input: 1080i
Panel Size: 0.63 in (16 mm)
Lens Type (Throw:Width): 1.18~1.91:1
Anti Keystone: Fixed Image Offset, Ratio (Top:Bottom) 9:1
3000 ANSI Lumens, 85% uniformity, and 500:1 contrast ratio.
Weighs 6.2 lbs (2.8 kg) - Compact and lightweight design.
3 panel LCD imaging delivers a rich, color saturated picture.
True XGA resolution. UXGA~VGA and MAC compatible.
Quiet operation: fan noise as low as 29 dBA.
Smart data compression / expansion, and video scaling.
Convenient mid-range (1.6:1) manual zoom and focus lens.
Preset image offset. Vertical digital keystone correction.
Accepts Composite, Component and S-Video in all major standards.
Displays both 4:3 and 16:9 formats. Supports most HDTV resolutions.
Converts Interlace to Progressive scan. 3-2 / 2-2 Pulldown support.
Built-in 7 Watt sound system. Closed caption decoding (NTSC).
Wired Network Monitoring and Control. Digital Zoom: 50%~400%.
VGA & DVI-I computer inputs, and VGA computer monitor output.
Buy it Used

Thinking of purchasing rather than renting? UsedLighting.com is a division of 4Wall Entertainment that provides a safe place for buying, selling, and brokering quality used stage lighting equipment. The site carries technician maintained inventory sold directly from 4Wall rental stock that includes unparalleled warranties and customer service.