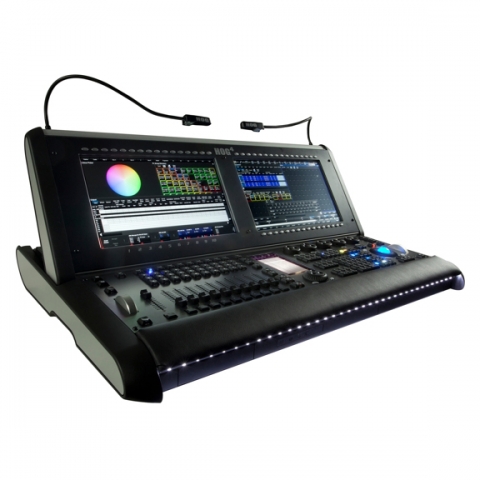 High End Systems Whole Hog 4
Details
Description
With new encoders, jog shuttle wheel, lcd keys, motorized faders and integrated keyboard the Hog 4 is completely customizable. The console provides three monitor outputs, MIDI input and output ports, 8 USB ports, 2 Fast Ethernet ports on a rugged Neutrik Ethercon connector allowing you total flexibility.
Only located at 4Wall Los Angeles.
4Wall Entertainment Lighting is a rental company with locations nationwide. Since 1999 we've been providing quality stage and theatrical lighting equipment from the industry's top manufacturers. Request a rental quote for this item now and receive a response within one business day!
Specs
Features
Robust Hog 4 Operating Software
Unlimited number of simultaneous crossfades
Two internal 17-inch wide screen touchscreens with 10 point multi-touch
Three external monitors or touchscreens supported
Five encoders for an expanded wheelset
Twelve LCD User Keys
Tri Axis backlit trackball, with rotary encoder for the third axis and four configurable buttons for cursor and position control
Ten motorized playback faders
One motorized Grand Master
Dedicated Intensity and Rate wheels
User assignable Jog Shuttle encoder
48 Soft-Keys for quick toolbar selections
Built in DMX Processor 8000
Hog-Net Ethernet connector
Fixture-Net Ethernet connector
Integrated keyboard
Internal Hard disk drive
Internal CD/DVD drive
Eight USB ports for Wholehog wings and external touchscreens
Storage space beneath arm rest
Desklights, feedback LEDs, and integrated worklight all dimmable
Auto-ranging mains input (90-250VAC)
nlimited number of DMX channels via Ethernet DPs
Unlimited number of Art-Net and E1.3.1 (sACN) universes via Ethernet DPs
Onboard MIDI Input and Output, MIDI Show Control and MIDI Time Code and LTC Input
Multiple LTC inputs via optional multiple SMPTE/ LTC USB Widget
Connectivity with many visualizers via Ethernet
Wired and wireless networking ability with multiple Wholehog console systems
Remote Focus capabilities when networked with a tablet PC running Hog 4PC software
Supports USB Playback and Expansion Wings