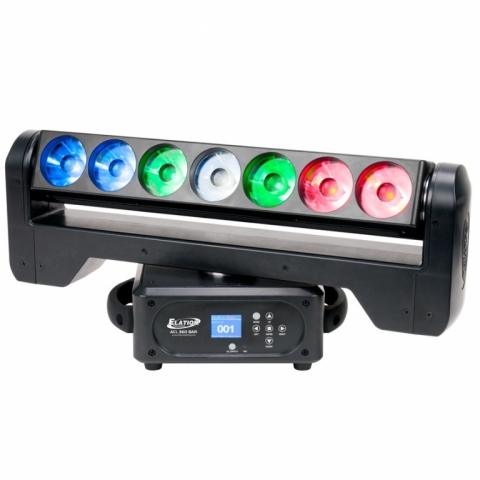 Details
Description
The ACL 360 BAR is a versatile moving bar effect luminaire featuring (7) individual 15W RGBW 4-in-1 LEDs and the new advanced collimator optic lens, which combined produce a laser-like homogenized 4° color-changing beam from each lens which combined produce a 31° beam angle. Features include fast and precise16-bit continuous full 360° pan and tilt rotation, full individual pixel control, strobe, and selectable dimming curve effects, DMX, RDM (Remote Device Management), KlingNET and Art-NET support, 3/5pin XLR, powerCON, and RJ45 ethernet in/out connections, (6) button control full color 180° reversible menu display, 135W max power consumption, and a multi-voltage universal auto switching power supply (100-240v).
Only located at 4Wall Orange County.
4Wall Entertainment Lighting is a rental company with locations nationwide. Since 1999 we've been providing quality stage and theatrical lighting equipment from the industry's top manufacturers. Request a rental quote for this item now and receive a response within one business day!
Video
Specs
Features
Versatile 31 deg. Beam Moving Bar Effect Luminaire
New Advanced Collimator Lens
(7) Pixel Control RGBW 4-in1 LEDs
Laser-Like Homogenized 4 deg. Color Changing Beams
Fast and Precise 16-Bit Continuous 360° Pan/Tilt Rotation
Strobe and Selectable Dimming Curve Effects
DMX, RDM, KlingNET and Art-NET (DMX Over Ethernet) Support
Flicker Free Operation for Broadcast TV and FILM
(7) 15W RGBW 4-in-1 LEDs
100,000 Hour Average Lamp Life
(31 deg. Full ON)
44,440 LUX 4,128 FC @3.3' (1m)
25,260 LUX 2,347 FC @6.6' (2m)
15,430 LUX 1,433 FC @9.8' (3m)
10,960 LUX 1,018 FC @13.1' (4m)
8,081 LUX 751 FC @16.4' (5m)
Individual Pixel Control
Strobe and Selectable Dimming Curves
RGBW
(3) DMX Channel Modes (17 / 19 / 43)
RDM (Remote Device Management)
6 Button Touch Control Panel
Full Color 180 deg. Reversible LCD Menu Display
8 / 16 Bit Resolution Adjustable Movement
3pin/5pin DMX In/Out
RJ45 Ethernet In/Out (KlingNET / Art-NET)
powerCON Power In/Out
Buy it Used

Thinking of purchasing rather than renting? UsedLighting.com is a division of 4Wall Entertainment that provides a safe place for buying, selling, and brokering quality used stage lighting equipment. The site carries technician maintained inventory sold directly from 4Wall rental stock that includes unparalleled warranties and customer service.
Buy it New

Thinking of purchasing rather than renting? NewLighting.com is a division of 4Wall Entertainment that carries brand new, unopened fixtures and accessories from top manufacturers. You can rest assured that purchases from the site include all applicable manufacturer warranties, as well as the full customer service and support of the 4Wall family of companies.