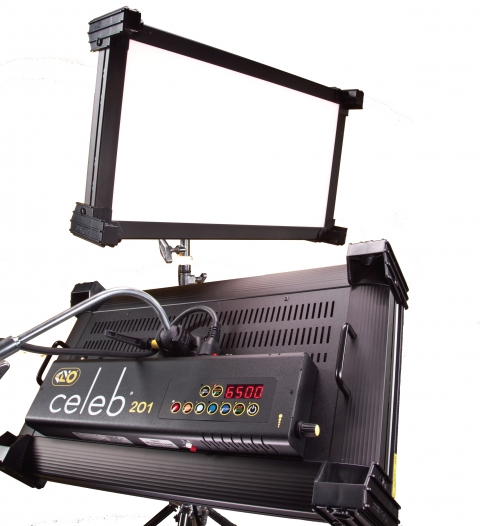 Kino Flo Celeb 201 DMX LED
Details
Description
The Celeb 201 DMX LED produces a soft, even wraparound lighting quality (CRI 95) and produces color faithfully, beautifully on HD or film, in the studio or on location. The Celeb 201 measures 24" x 14" and is similar in profile and light output as the popular Diva-Lite 415.

The Celeb boasts technical innovations that make it an ideal professional imaging tool: a dial-in variable color temperature control, full-range dimming and programmable 2700K to 6500K presets. The Celeb's 100 Watts of soft, lustrous white light doesn't flicker or shift color temperature when dimmed.
4Wall Entertainment Lighting is a rental company with locations nationwide. Since 1999 we've been providing quality stage and theatrical lighting equipment from the industry's top manufacturers. Request a rental quote for this item now and receive a response within one business day!
Video
Specs
Features
Kelvin presets and custom settings between 2700-6500K
Universal Input 100VAC-240VAC or 24VDC
Onboard and DMX dimming
DMX wireless link (Lumen Radio)
DMX Auto Terminate
Flicker-free, dead quiet operation
Five Kelvin presets
Dial-in color temperature control between 2700-6500K
Can use preset buttons to store custom Kelvin settings
Light levels do not change when selecting Kelvin settings
Color-correct with high color rendering index (CRI 95)
Energy efficient, draws less than 1A, 120VAC
Full range onboard and DMX dimming
No color shift while dimming