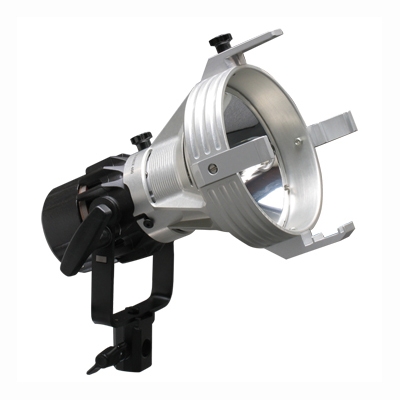 Details
Description
The Joker-Bug 400 combines the characteristics of the Bug-Lite 400, a 400 Watt daylight HMI system without optics, with those of the Joker 400, a PAR 46 fixture using a specular parabolic reflector and a set of 4 lenses. The Joker-Bug 400 is comparable to a 1500/2000Wquartz fixture but with a power draw of only 5.5 Amps.
4Wall Entertainment Lighting is a rental company with locations nationwide. Since 1999 we've been providing quality stage and theatrical lighting equipment from the industry's top manufacturers. Request a rental quote for this item now and receive a response within one business day!
Specs
Features
Lamp Housing: Aluminum casting, high temperature black. Striker compartment is made of aluminum in light gray finish.
Lamp Socket: GZZ 9.5, highly insulated for hot retsrike.
Safety Glass Beaker: Borosilicate UV filter tempered.
Yoke: Aluminum casting black high temperature finish. Large T-handle and large brake area for use with Lightbanks, SpeedRings, Louvers and Lanterns.
BEAMER Housing: Solid one piece machined aluminum with replaceable ears. Black anodized.
BEAMER Reflector: 5" diameter specular parabolic, aluminum 90% reflectance electrolytically coated.
Accessory Size: 6 5/8"
Mounting/Grip Equipment: All standard 5/8" baby hardware.
Lamp: 400 Watt MSR/SE daylight single ended discharge, 5600 Kelvin, 700 hours maximum life.
Connectors: Veam quarter-turn quick locking.
Extension Cable: 25 foot shielded. Common to 200/400 and 800 (nine feet attached to the head).
Power Supply: Electronic, square wave flicker free. AC input: 90-132 Volt or by sliding selector switch: 180-265V. 50 or 60Hz. Dual function On/Off push button switch. Completely silent (convection cooled).