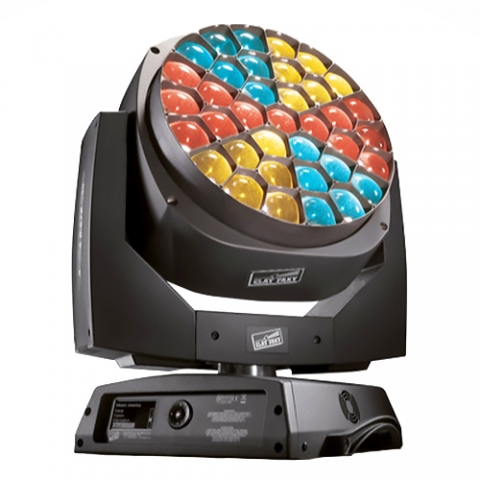 Clay Paky A.Leda B-EYE K20
Details
Description
The A.leda B-EYE K20 is a high performance wash light, a breathtaking beam light, and a creator of completely new spectacular visual effects. Its versatility makes it an extremely interesting creative tool for all lighting designers.
In addition the B-Eye K20 introduces an amazing feature that turns it into a stunning effect light: the front lens can be rotated in either direction and at variable speed, creating many little beams that can be unfolded or closed like petals!
4Wall Entertainment Lighting is a rental company with locations nationwide. Since 1999 we've been providing quality stage and theatrical lighting equipment from the industry's top manufacturers. Request a rental quote for this item now and receive a response within one business day!
Video
Specs
Features
Source Type: RGBW LEDs
LED Nominal Wattage: 15W
Number of LEDs: 37
Versatile, three operating modes: wash, beam, FX effect
Unique optical system, featuring unmatched zoom range (4 deg-60 deg) and even light spread
Individual LED control for each parameter
Invisible front grid
Beam edge softening control (in wash mode)
Exclusive parallel beam consisting of an array of individually controllable micro-beams
Enhanced electronic engine for dynamic beam pattern design, with digital accuracy and repeatability
Rotating front lens for countless vortex effects, for aerial or "kaleidoscopic" projection use
White CT Emulation 2500-8000K
RGB auto-tuning to lamp CT Emulation
Tungsten Lamp Emulation
Buy it Used

Thinking of purchasing rather than renting? UsedLighting.com is a division of 4Wall Entertainment that provides a safe place for buying, selling, and brokering quality used stage lighting equipment. The site carries technician maintained inventory sold directly from 4Wall rental stock that includes unparalleled warranties and customer service.