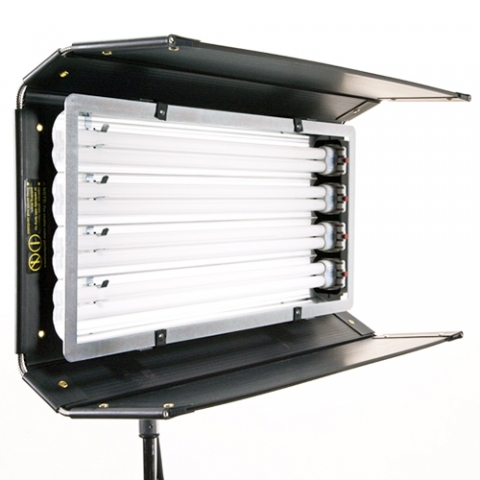 Details
Description
The Kino Flo Diva-Lite 401 Fixture is a portable, versatile cool-running fluorescent lighting fixture with 2-lamp/4-lamp switching that's ideal for fast-moving video production of all kinds. With full-range dimming, switching and remote control, the Diva is nimble and dependable on location, perfect for news or commercial video production.
4Wall Entertainment Lighting is a rental company with locations nationwide. Since 1999 we've been providing quality stage and theatrical lighting equipment from the industry's top manufacturers. Request a rental quote for this item now and receive a response within one business day!
Features
2-lamp/4-lamp switching
Built-in dimming ballast
Built-in barndoors
Center mount
True Match daylight, tungsten balanced lamps
Input Voltage: 120VAC 50/60Hz
Lamps: 4 x 55W CFL
Amperage: 2 Amps
Weight: 13 lbs. (5.9kg)
Dimensions: 26" x 12" x 6"
Buy it New

Thinking of purchasing rather than renting? NewLighting.com is a division of 4Wall Entertainment that carries brand new, unopened fixtures and accessories from top manufacturers. You can rest assured that purchases from the site include all applicable manufacturer warranties, as well as the full customer service and support of the 4Wall family of companies.